Soap Making Blog
Welcome to the Soap Making Blog! In this area of the site you will...
Be able to keep up to date with all new pages added to the Soap Making Resource website.
Know when important changes or updates occur on one of my web pages.
Discover existing content on this site that you may have overlooked as I highlight the "best of" soap-making-resource.com.
I'm constantly adding new and valuable content to this website, so check back often for updates.
Better yet, subscribe to my site and Blog via my RSS feed by clicking on the RSS buttons to the left just below the navigation bar. With RSS, you'll never miss a single thing, guaranteed!
Free Soap Making e-Newsletter
Plus instantly receive one of my own personal soap recipe formulas using a combination of sweet almond oil, avocado oil, olive oil, coconut oil, palm oil, castor oil and shea butter scented with an intoxicating essential oil blend. This recipe is explained step by step in full detail. you're going to love it!
Instantly receive one of my own soap recipe formulas.
$5 Coupon off your first purchase of $30 or more!
Access to more exclusive subscriber coupons.
Future Soap making recipe tutorial announcements.
How to make lotions, bath bombs and more!
Interviews with successful soap makers.
Contests with awesome prizes.
Revealing soap making poll results.
New product announcements, demos and reviews.
Unbeatable Soap Making Resource Sales!

Sign Up Today!

*Your information is SAFE with us!
Don't know what an RSS feed is? No problem! Just click on the blue text that says "what's an RSS feed" located beneath the orange "XML" and "RSS" buttons on the left side of the screen. It's really easy to use, and I'm sure you'll love the benefits!
Now have some fun and enjoy the soap making Blog and all that it has to offer...
Complete Soap Making Supplies and Tutorial Resource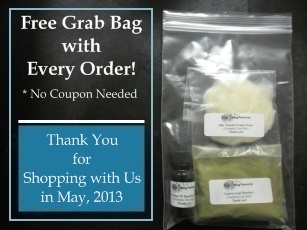 Soap making is an absolute blast. Here you will find recipes, strategies, tips, and, of course, quality soap making supplies. Learn everything there is to know about making soap at home today.
Continue reading "Complete Soap Making Supplies and Tutorial Resource"
---
Return from Soap Making Blog to the Soap Making Resource home page