Most of these natural soap herbs are available in C/S form, which means they are cut into small manageable pieces and the botanicals powder is filtered out. In my opinion, adding the herbs in this form is much better then adding whole leaves to your soap as wilting becomes more obvious when the leaves are whole and most botanicals will need to be cut down anyhow because of their size. With the botanicals in C/S form, this step is already done for you!
Using fresh herbs for soap making will add a whole new dimension to your products that your friends, family and customers will love!
Soap Making Resource is now offering a
soap making herb kit
containing each of the herbs below. Don't know which decorative botanical to go with? Now you can try them all! The soap making herbs kit will include:
2 Ounces Calendula (Petals)
2 Ounces Chamomile Flowers (whole)
2 Ounces Eucalyptus Leaf (C/S)
2 Ounces Grapefruit Peel (C/S)
2 Ounces Juniper Berries (Whole)
2 Ounces Lavender (Buds)
2 Ounces Lemongrass (C/S)
2 Ounces Lemon Peel (C/S)
2 Ounces Orange Peel (Small Cut)
2 Ounces Peppermint Leaf (C/S)
2 Ounces Spearmint Leaf (C/S)
Soap Making Herbs Kit Price: $24.95
Also be sure to checkout these other great kits including:
Calendula Petals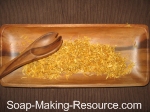 Calendula petals add a very pleasant natural aroma to your soap and also a pretty yellow tint to your product. You can infuse calendula petals into one of your liquid oils making your very own homemade therapeutic calendula oil. This is easily done in your crock-pot or right on your cook-top burner. Homemade calendula oil is also wonderful to apply to your skin all by itself!
If you don't want to infuse the petals, you can also use them in whole form within your soap or layered on top of your soap for decoration. Calendula petals will add stunning beauty to just about any bar! Check out this recipe tutorial demonstrating my calendula soap recipe. There is also a soap making kit available for that tutorial!
1/4 Pound: $6.25
1/2 Pound: $10.37
1 Pound: $16.58
Spearmint Leaf (C/S)
Spearmint leaves can be used in soap making to add subtle scent, decoration and a natural green color. Add them to your soap in diced or powdered form. Of course, this soap making herb looks wonderful as well when added to the top of your bars. It is a must have for your spearmint bath creations along with therapeutic grade spearmint essential oil.
1/4 Pound: $3.23
1/2 Pound: $5.56
1 Pound: $10.12
Thanks for taking the time to learn about the natural soap making herbs that Soap Making Resource has to offer. It's tons of fun using natural soap herbs in your product for decoration, exfoliation and coloring. If you have any questions about how to use these herbs for soap making, or just about a particular botanical in general, please feel free to contact me using this form. I'm here to assist you with your soap making needs!


-----------------------------------------------------------------------
Free Soap Making e-Newsletter
Plus instantly receive one of my own personal soap recipe formulas using a combination of sweet almond oil, avocado oil, olive oil, coconut oil, palm oil, castor oil and shea butter scented with an intoxicating essential oil blend. This recipe is explained step by step in full detail. you're going to love it!
Instantly receive one of my own soap recipe formulas.
$5 Coupon off your first purchase of $30 or more!
Access to more exclusive subscriber coupons.
Future Soap making recipe tutorial announcements.
How to make lotions, bath bombs and more!
Interviews with successful soap makers.
Contests with awesome prizes.
Revealing soap making poll results.
New product announcements, demos and reviews.
Unbeatable Soap Making Resource Sales!

Sign Up Today!

*Your information is SAFE with us!
-----------------------------------------------------------------------
---