Rosemary Oleoresin
Rosemary Oleoresin, commonly referred to as ROE is a natural antioxidant extract ingredient that will effectively extend the shelf life of your oils and combat oxidation in your homemade products.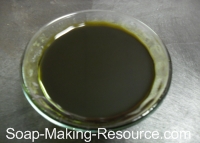 Have you ever created a homemade bar soap and found that after only a few months your product developed unsightly orange spots. The Soap Making Community has a name for this. It's called DOS, which stands for dreaded orange spots! Your product will develop DOS over time as the oils within your soap become rancid. If you are using stable oils for your recipe, it may take a while for this to occur. Depending on your recipe, however, and the oil combination that you are using, DOS can form after just a few months. ROE can effectively be used to combat DOS as its powerful antioxidant properties will help prevent your oils from becoming rancid. A large portion of soap makers use rosemary oleoresin in every batch to ensure that their product is stable and has an extended shelf life.
To incorporate ROE into your batch, simply mix in .02% - .08% rosemary oleoresin to your melted soap making oils before adding your lye when making soap.
Rosemary Oleoresin is also widely used by soap makers to extend the shelf life of their bulk oils. If you are buying oils from us in large quantities and plan to keep them for a while, it is a great idea to add a small amount of Rosemary Oleoresin to the oils once you get them. Again, the powerful antioxidant properties will help extend the shelf life of your oils and consequently lessen waste! Just add the same .02% - .08% ROE to your bulk soap making oils to utilize the antioxidant properties of this product.
Finally, Rosemary Oleoresin can also be used in some cosmetic recipes that call for an antioxidant skin care nutrient.
Keep in mind that Rosemary Oleoresin is not a preservative, so it won't stop bacterial growth, but due to its antioxidant properties, in addition to soap, it is often used to help extend the shelf life of lotions, creams, body butters and more!
Rosemary Oleoresin has a light smell of rosemary, but it is not strong enough to promote an aroma that will come through in your finished product. So you won't have to worry about it interfering with your soap's aroma.
Rosemary Oleoresin (Antioxidant) (Out of Stock)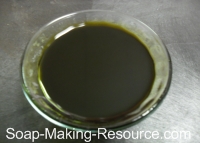 Our rosemary oleoresin is of an extremely high quality. It has approximately a 7.0% carnosic acid content. Carnosic acid is a strong acid that is responsible for ROE's incredible antioxidant properties. You have to be careful when purchasing this product as some companies sell an inferior rosemary oleoresin with a Carnosic acid content as low as 1%. With an acid content that low, inferior ROE will not perform nearly as well compared to our high quality ROE. Our Rosemary Oleoresin is available from a 1 ounce size all the way up to 5 pounds!
1 ounce: $5.92 Out of Stock
2 ounces: $10.23 Out of Stock
4 ounces: $20.02 Out of Stock
8 ounces: $39.71 Out of Stock
16 ounces: $78.54 Out of Stock
5 pounds: $385.11 Out of Stock
Thank you for taking a look at our rosemary oleoresin antioxidant! I think that you will like this product! If you have questions, feel free to contact us by calling our warehouse or emailing us using the form located on the contact page. Thank you for shopping at soap-making-resource.com!
Free Soap Making e-Newsletter
Plus instantly receive one of my own personal soap recipe formulas using a combination of sweet almond oil, avocado oil, olive oil, coconut oil, palm oil, castor oil and shea butter scented with an intoxicating essential oil blend. This recipe is explained step by step in full detail. you're going to love it!
Instantly receive one of my own soap recipe formulas.
$5 Coupon off your first purchase of $30 or more!
Access to more exclusive subscriber coupons.
Future Soap making recipe tutorial announcements.
How to make lotions, bath bombs and more!
Interviews with successful soap makers.
Contests with awesome prizes.
Revealing soap making poll results.
New product announcements, demos and reviews.
Unbeatable Soap Making Resource Sales!

Sign Up Today!

*Your information is SAFE with us!
---
Return from rosemary oleoresin to the soap making resource home page.