Soap Cutter
A quality soap cutter is an important tool for the natural soap maker. It's a must have to slice that prized loaf of soap into beautiful even bars. Soap Making Resource offers quality soap cutters in a variety of styles. Whether you want a wavy blade soap slicer or straight blade soap slicer, we have it! We are also the home of the Soap Making Resource professional guided soap cutter which will help you cut those perfect uniform bars every single time! Your soap cutting tool will surely become one of the most loved tools in your soap making arsenal!
Our stainless steel soap cutting blades have a unique design that will eliminate slippage and uneven cuts that you may experience when slicing your soap with a regular kitchen knife. Depending on its curing stage and the oils used, your homemade soap loaf can become somewhat hard. With the handle on top and blade on the bottom, this style of bar soap cutter makes it easy to apply the right amount of leverage and pressure without worrying about dangerous slippage... even for those hard loafs. Of course, if you use our guided soap cutter, there will be no slippage at all! Furthermore, with the large handle on top, your fingers are always away from the blade.
If you need to cut your bars in a perfectly uniform size every single time, our guided cutter makes this an absolute breeze!
If you're serious about soap making and are concerned about producing a fine quality product in the safest way possible, I strongly recommend investing in a high quality professional stainless steel soap cutter and for cutting even professional-looking bars, our guided soap cutter.
Here are the different types of manual soap cutting tools available:
Guided Soap Cutter (Out of Stock)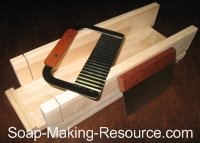 This guided soap cutter is a must have for all serious soap makers! It will help you cut perfectly even bars every single time. This new soap cutting tool has an adjustable stop so that you can cut your soap at any thickness you want! You can even bring the stop all the way in so that you can shave off any imperfections at the end of your log without wasting the entire first and last bar! You will absolutely love this soap cutting tool! It is a real gem. Each of these "miter box soap cutters" comes with a free stainless steel straight soap blade and free stainless steel wavy soap blade.
The dimensions of the box are 16 inches long by 4.25 inches wide by 2.75 inches tall. The ends of the cutter are open, so if your soap loaf is longer then 16 inches, it will still work fine!
Guided Soap Cutter: $43.00 Out of Stock
Straight Blade (Out of Stock)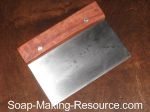 This straight blade cutter is perfect for slicing smooth bars.
Straight Blade Cutter (qty 1): $4.50 Out of Stock
Straight Blade Cutter (qty 10): $35.00 Out of Stock
Click here for more information about the staight blade cutter
Wavy Blade
This wavy blade cutter, also known as a crinkle soap cutter will produce a wavy and uneven feel. It's a very nice decorative addition for your elegant handmade soaps.
Wavy Blade Cutter (qty 1): $6.50
Wavy Blade Cutter (qty 10): $55.00
Thanks for taking the time to learn about the various soap cutting tools available at Soap Making Resource. If you have any questions about soap making or about my products, please use this contact form to send me a message.
Free Soap Making e-Newsletter
Plus instantly receive one of my own personal soap recipe formulas using a combination of sweet almond oil, avocado oil, olive oil, coconut oil, palm oil, castor oil and shea butter scented with an intoxicating essential oil blend. This recipe is explained step by step in full detail. you're going to love it!
Instantly receive one of my own soap recipe formulas.
$5 Coupon off your first purchase of $30 or more!
Access to more exclusive subscriber coupons.
Future Soap making recipe tutorial announcements.
How to make lotions, bath bombs and more!
Interviews with successful soap makers.
Contests with awesome prizes.
Revealing soap making poll results.
New product announcements, demos and reviews.
Unbeatable Soap Making Resource Sales!

Sign Up Today!

*Your information is SAFE with us!
---
Return from the soap cutter page to the main soap making supplies page.
Return to the soap making resource home page.