Wire Soap Loaf Cutter
Want to cut your soap like a pro? Try Soap Making Resource's professional wire soap loaf cutter. This is the perfect tool for quickly cutting your soap loaves into even, professional looking bars.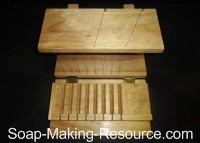 There are many benefits to using our wire soap cutting tool. First of all, you will save a ton of time during production. This one small investment will allow you to cut 8 even, professional looking bars of soap with one smooth motion. Remember, time is money and this piece of equipment will pay for itself very quickly!
The Soap Making Resource wire soap cutter is very easy to use! Simply place your loaf of soap into the corner of the cutter and pull the top down, over your log of soap. The thin wires will easily cut through your soap loaf and create 8 beautiful 1 inch thick bars.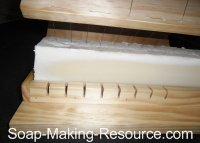 Do you make logs of soap that are longer than 8 inches? Simply repeat the above steps with your remaining uncut log until your entire soap loaf is sliced into bars. Very easy!
Our wire soap loaf cutter is exceptionally durable and manufactured within our facility to the highest quality standards. In addition to quality hardware, we have even applied a protective water resistant coating to the wood!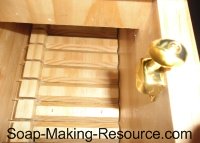 You can easily clean your wire soap loaf cutter by gently wiping it down with a wet washcloth.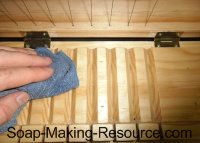 Along with your purchase, we will also supply you with an extra set of soap cutting wire so that if you ever have a wire break on you, you can easily re-string your piece of equipment without any hassle.
You can purchase this item below. I know you will love it!
Wire Soap Loaf Cutter 15% off (Out of Stock)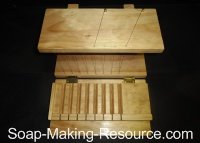 Soap Making Resource's wire soap loaf cutter is the perfect investment for quickly cutting your loaf of soap into even professional soap bars with ease. A real time saver! This wire soap cutter will produce finished bars that are 1 inch thick. As with all of our equipment products, this unit is highly durable and manufactured with the highest quality standards. Please be advised that this piece of equipment will work with loaves of soap that have a 3 inch maximum height and 4 inch maximum depth. It will work perfectly with any soap produced with one of our wooden soap molds or acrylic soap molds.
Wire Soap Loaf Cutter: $159.00 15% off Sale: $135.15 Out of Stock
Thank you for taking a look at our wire soap loaf cutter. I think that this is one of those pieces of equipment that you will always wonder how you did without! As always, if you have any questions, please feel free to contact us. We are happy to help you!
Free Soap Making e-Newsletter
Plus instantly receive one of my own personal soap recipe formulas using a combination of sweet almond oil, avocado oil, olive oil, coconut oil, palm oil, castor oil and shea butter scented with an intoxicating essential oil blend. This recipe is explained step by step in full detail. you're going to love it!
Instantly receive one of my own soap recipe formulas.
$5 Coupon off your first purchase of $30 or more!
Access to more exclusive subscriber coupons.
Future Soap making recipe tutorial announcements.
How to make lotions, bath bombs and more!
Interviews with successful soap makers.
Contests with awesome prizes.
Revealing soap making poll results.
New product announcements, demos and reviews.
Unbeatable Soap Making Resource Sales!

Sign Up Today!

*Your information is SAFE with us!
---
Return from wire soap loaf cutter to the soap making resource home page.