Cosmetic Honey
Soap Making Resource is excited to announce the addition of cosmetic honey to its ingredient product line. This item is available in packaged sizes from as small as 1 pound and up to our 60 pound bulk 5 gallon pail. Cosmetic honey is a great all natural ingredient that can be used in the manufacturing of many different bath and beauty products including lotions, facial masks and, of course, soap! Honey is one of the oldest skin care ingredients on this earth. Start using it in your products today!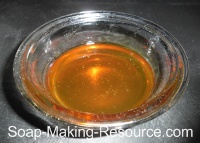 Not sure how to use honey in your manufacturing process? Simply view one of our tutorials and learn how to incorporate this ingredient into your product today! Soap Making Resource is pleased to share with you our honey oatmeal almond milk soap recipe, citrus honey soap recipe and our honey carrot facial mask recipe. Each one of these picture tutorials will help you understand a little bit more about how to use this natural ingredient!
Cosmetic Honey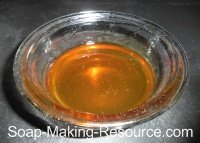 Soap Making Resource's cosmetic honey is a 100% all natural, pure grade ingredient. Cosmetic honey and food grade honey are actually identical products, but are simply labeled according to intent of use. Soap Making Resource purchases this product in bulk as a food grade item, but once it arrives at our facility is considered to be cosmetic grade as we are a cosmetic manufacturing facility and our honey is specifically intended to be used for cosmetic purposes.
Soap Making Resource's cosmetic honey is available in 1 pound, 2.5 pound, 5 pound, 10 pound and 60 pound sizes.
1 pound: $6.76
2.5 pounds: $13.80
5 pounds: $25.85
10 Pounds: $43.94
60 Pounds: $247.50
Thank you for learning about Soap Making Resource's cosmetic honey! If you have any questions, please feel free to call our warehouse at 717-397-4104 or contact us using this form!
Free Soap Making e-Newsletter
Plus instantly receive one of my own personal soap recipe formulas using a combination of sweet almond oil, avocado oil, olive oil, coconut oil, palm oil, castor oil and shea butter scented with an intoxicating essential oil blend. This recipe is explained step by step in full detail. you're going to love it!
Instantly receive one of my own soap recipe formulas.
$5 Coupon off your first purchase of $30 or more!
Access to more exclusive subscriber coupons.
Future Soap making recipe tutorial announcements.
How to make lotions, bath bombs and more!
Interviews with successful soap makers.
Contests with awesome prizes.
Revealing soap making poll results.
New product announcements, demos and reviews.
Unbeatable Soap Making Resource Sales!

Sign Up Today!

*Your information is SAFE with us!
---
Return from cosmetic honey to the soap making resource home page.