Soap Making Resource Grab Bag
All orders placed with Soap Making Resource LLC will include a free Soap Making Resource ingredient grab bag. Each grab bag will contain a variety of SMR ingredient goodies that I'm sure you will LOVE! No coupon code is needed to receive this special gift and no minimum order is required. Our shipping department knows that every order that leaves the SMR warehouse will include an SMR grab bag free of charge!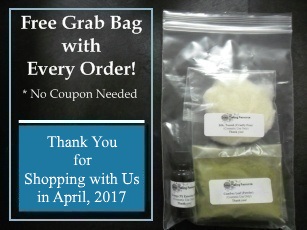 The Soap Making Resource grab bag is a great way to try new ingredient products from SMR before you buy them. We regularly change what is in the grab bag to give you the opportunity to try a large variety of our quality products each time you order! Most of the time, you won't know what's inside your grab bag until your package arrives... The surprise is definitely part of the fun!
Here at Soap Making Resource LLC, we are confident that once you try our quality ingredients you will love them so much that we will earn your repeat business. Impressing you with quality is what we are all about!
Free Soap Making e-Newsletter
Plus instantly receive one of my own personal soap recipe formulas using a combination of sweet almond oil, avocado oil, olive oil, coconut oil, palm oil, castor oil and shea butter scented with an intoxicating essential oil blend. This recipe is explained step by step in full detail. you're going to love it!
Instantly receive one of my own soap recipe formulas.
$5 Coupon off your first purchase of $30 or more!
Access to more exclusive subscriber coupons.
Future Soap making recipe tutorial announcements.
How to make lotions, bath bombs and more!
Interviews with successful soap makers.
Contests with awesome prizes.
Revealing soap making poll results.
New product announcements, demos and reviews.
Unbeatable Soap Making Resource Sales!

Sign Up Today!

*Your information is SAFE with us!
---
Return from Soap Making Resource Grab Bag to the Soap Making Resource home page.