Soap Beveler
The Soap Making Resource professional acrylic soap beveler is an integral tool for all homemade soap makers. Ever wonder how some soaps have those perfectly trimmed edges giving the bar a beautiful and luxurious gemstone appeal? Well, this is the tool you need to achieve that look! Plus, this unit doubles as a bar planer too!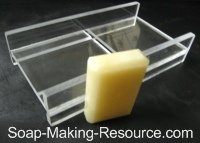 This soap beveler is very easy to use. Simply place the edge of your soap bar into the groove and slide it through the unit to trim off the edge. Easy as pie and it will come out perfect every time!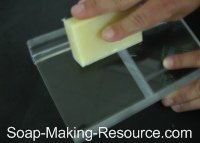 The Soap Making Resource soap beveler is also very versatile. Each soap beveler is able to trim the edges of your bars at two different depths. Take a look at the picture below of the two grooves of varying sizes.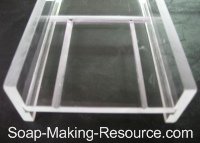 Want only a slight bevel. Use the right side of the unit, which takes off just a minimal amount of soap from the bars edges. Want a deeper, more noticeable bevel? Use the left side of the unit which will take off a greater amount of soap from the bars edges!
Speaking about versatile... this soap beveler also doubles as a bar planer. To trim off some of your soap's surface, simply run your bar through this unit using the side wall as a guide. As your soap passes through, an almost paper thin layer of soap will neatly be removed from your bar.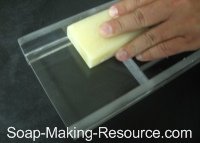 Unlike some units out there on the market today, the Soap Making Resource soap beveler and planer will remove only a minimal amount of soap when planing. This will help to lower your product waste! After all, you don't want to be removing more soap from your bar than you have to, right? After the first run, if you do still need to remove even more of your soap's surface, you can always pass the bar through again.
Trimming the surface of your soap is a great way to remove built up soda ash from your product, eliminate unwanted blemishes and even form any imperfectly shaped bar into a perfect square.
Another great benefit of the Soap Making Resource soap beveler is that it is made completely out of acrylic. This causes our unit to be super easy to clean. Just plop it in the sink, let it soak and wipe dry! That simple. You can't do that with wood!
Furthermore, Acrylic is also completely flawless and smooth; unlike wood. As you run your soaps across this unit, you will not have to worry about imperfections or splinters that can damage your bars.
Heard enough? Purchase this unit below!
Soap Beveler and Planer (Out of Stock)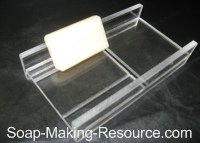 The Soap Making Resource 2 in 1 soap beveler and planer is made out of thick and durable acrylic. You can bevel your soap's edges at two different depths and also plane a thin layer of soap off the surface of your bars. Dimensions of this unit are 4.25 inches wide by 9 inches long.
Soap Beveler: $39.00 Out of Stock
Thank you everyone for taking a look at the Soap Making Resource soap beveler and planer. I am sure that you will love it! If you have any questions at all, feel free to contact us using this form.
Free Soap Making e-Newsletter
Plus instantly receive one of my own personal soap recipe formulas using a combination of sweet almond oil, avocado oil, olive oil, coconut oil, palm oil, castor oil and shea butter scented with an intoxicating essential oil blend. This recipe is explained step by step in full detail. you're going to love it!
Instantly receive one of my own soap recipe formulas.
$5 Coupon off your first purchase of $30 or more!
Access to more exclusive subscriber coupons.
Future Soap making recipe tutorial announcements.
How to make lotions, bath bombs and more!
Interviews with successful soap makers.
Contests with awesome prizes.
Revealing soap making poll results.
New product announcements, demos and reviews.
Unbeatable Soap Making Resource Sales!

Sign Up Today!

*Your information is SAFE with us!
---
Return from soap beveler to the soap making resource home page.