Tussah Silk
Here at Soap Making Resource we offer all natural tussah silk for soap making. Our tussah silk fiber is high quality, clean and perfect for every one of your batches! After you try using silk in soap making once, I think this is one additive that you will find yourself using in just about every batch!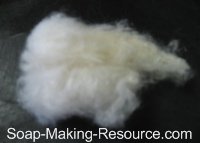 So how is silk used in soap making and what qualities will it add to your finished product?
Silk is used in soap making by adding a small amount of the fibers to your hot lye solution. How small are we talking here? For a 5 pound batch of soap, you need to add only about a cotton-ball sized pinch of silk. A little goes a long way with this additive. In fact, the cost added to each bar of soap from incorporating silk into your product is just pennies! Pretty cool.
Tussah silk, which is actually a protein produced by the silkworm, will quickly dissolve into your lye water and the now "silk infused" lye solution is added, as usual, to your batch.
The addition of silk will cause your homemade soap to have a more shiny appearance, slightly increased lather, be more slippery, and have a general luxurious "silky" feeling to it. You will definitely notice the unique qualities added to your finished product from including silk in your recipe.
In addition, silk, of course, is undoubtedly good for your bar's label appeal. After all, silk does scream luxury!
I absolutely love silk soap and I think you will too!
Tussah Silk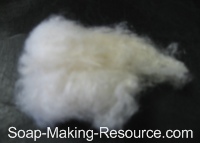 Tussah silk is 100% all natural. This additive should be included at the general rate of one cotton-ball sized pinch per 5 pound batch of soap. The silk should be dissolved in your hot lye solution prior to adding the lye solution to your batch. Our tussah silk is available in a 1 ounce, 1/4 pound, 1/2 pound and 1 pound size.
1oz: $8.25
1/4 Pound: $24.75
1/2 Pound: $41.25
1 Pound: $70.95
Thank you for taking the time to check out our tussah silk for soap making. If you have any questions please feel free to contact us! We are happy to help as you browse our large selection of soap making supplies.
Free Soap Making e-Newsletter
Plus instantly receive one of my own personal soap recipe formulas using a combination of sweet almond oil, avocado oil, olive oil, coconut oil, palm oil, castor oil and shea butter scented with an intoxicating essential oil blend. This recipe is explained step by step in full detail. you're going to love it!
Instantly receive one of my own soap recipe formulas.
$5 Coupon off your first purchase of $30 or more!
Access to more exclusive subscriber coupons.
Future Soap making recipe tutorial announcements.
How to make lotions, bath bombs and more!
Interviews with successful soap makers.
Contests with awesome prizes.
Revealing soap making poll results.
New product announcements, demos and reviews.
Unbeatable Soap Making Resource Sales!

Sign Up Today!

*Your information is SAFE with us!
---
Return from tussah silk to the soap making resource home page.