Cosmetic Clay
Looking for cosmetic clay? Soap Making Resource offers a variety of cosmetic clays for your skin care and soap making needs. These skin care clays are of superb quality! Whether you need them as an ingredient for your homemade bath and beauty product, or for creating a healing facial mask, this is the place to buy. Below you will find the types that we offer. Have fun while you browse!
Soap Making Resource now has a
cosmetic clay kit
available. This is a great way to try out the variety of clays before you invest in the bulk sizes found below. The kit will include:
2 Ounces Bentonite Clay
2 Ounces French Green Clay
Cosmetic Clay Kit Price:
$7.67
Out of Stock
Also be sure to check out our other wonderful kits including:
Bentonite Clay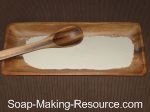 Bentonite clay, sometimes called Montmorillonite, is a popular skin care clay for masks because of its ability to remove toxins from the epidermis. It is used mostly on oily skin types. This clay is actually an aged form of volcanic ash. True bentonite clay is gray in color.
In soap making, bentonite clay is heavily used in shaving soap recipes. It will give your bar the necessary slip required for that type of product.
1/4 Pound: $3.34
1/2 Pound: $5.56
1 Pound: $8.91
French Green Clay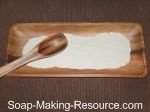 French green clay, sometimes called sea clay, is probably the most well known cosmetic clay out there. It is said to do a marvelous job in removing impurities from the skin. This is great skin care clay for oily or troubled skin as it is very soothing and may help to temporarily reduce sebum levels.
In soap making, French green clay can be used to add a natural green hue to your bar. In addition to a natural coloring agent, it is often used in soaps made for troubled skin. French Green clay truly is a great natural soap making clay that is widely used, and raved about, by many soap makers. You'll love soaping with this ingredient! By the way, our French green clay is, of course, authentic and actually does come from France.
1/4 Pound: $4.38
1/2 Pound: $7.30
1 Pound: $12.05
Moroccan Red Clay (Out of Stock)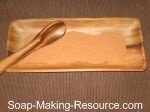 Moroccan red clay is popular in today's high end spas for facial applications. Unlike some cosmetic clay, Moroccan red clay moisturizes well and will not easily dry out your skin. Probably not the best skin care clay for oily skin types (use French green clay for that), but it is great for those who suffer from dry skin conditions.
In soap making, Moroccan red clay will add a beautiful stable red hue to your product. I love this skin care clay as a natural soap colorant! It produces a very nice red indeed! Having Moroccan red clay in your product will also add nicely to your label appeal if you decide to sell your soap.
1/4 Pound: $5.27 Out of Stock
1/2 Pound: $8.78 Out of Stock
1 Pound: $14.04 Out of Stock
Thank you for taking the time to learn about the various skin care clays that I offer. As you can see, the inclusion of these cosmetic clays can truly benefit your product. If you have any questions, please don't hesitate to send me a message using this form. Don't forget to checkout the many other ingredients available at Soap Making Resource!
Free Soap Making e-Newsletter
Plus instantly receive one of my own personal soap recipe formulas using a combination of sweet almond oil, avocado oil, olive oil, coconut oil, palm oil, castor oil and shea butter scented with an intoxicating essential oil blend. This recipe is explained step by step in full detail. you're going to love it!
Instantly receive one of my own soap recipe formulas.
$5 Coupon off your first purchase of $30 or more!
Access to more exclusive subscriber coupons.
Future Soap making recipe tutorial announcements.
How to make lotions, bath bombs and more!
Interviews with successful soap makers.
Contests with awesome prizes.
Revealing soap making poll results.
New product announcements, demos and reviews.
Unbeatable Soap Making Resource Sales!

Sign Up Today!

*Your information is SAFE with us!
---
Return from Cosmetic Clay to the Soap Making Resource Home Page.