Homemade Bug Repellent
Creating a homemade bug repellent is the perfect solution for naturally deterring unwanted insects. There are many bug repellents on the market today, most of which are made with harmful chemicals, such as DEET. Today's recipe incorporates only all natural ingredients including carrier oils and essential oils within its formula. This all natural homemade bug repellent recipe, will allow you to remain bite free and chemical free as you enjoy the outdoors this year!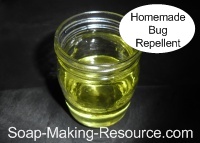 For all of you small businesses out there, keep in mind that natural bug sprays may sell very well at your spring and summer seasonal markets and could be a hit with your wholesale accounts. You may want to consider adding a bug repellent to your product line!
This particular bug repellent recipe tutorial will demonstrate how to make a homemade bug repellent using a simple oil-based formula. There are, however, many ways that you can successfully alter this recipe if you so choose. Additional methods and interesting alternatives will be reviewed at the end of this tutorial, so be sure to keep reading!
Free Soap Making e-Newsletter
Plus instantly receive one of my own personal soap recipe formulas using a combination of sweet almond oil, avocado oil, olive oil, coconut oil, palm oil, castor oil and shea butter scented with an intoxicating essential oil blend. This recipe is explained step by step in full detail. you're going to love it!
Instantly receive one of my own soap recipe formulas.
$5 Coupon off your first purchase of $30 or more!
Access to more exclusive subscriber coupons.
Future Soap making recipe tutorial announcements.
How to make lotions, bath bombs and more!
Interviews with successful soap makers.
Contests with awesome prizes.
Revealing soap making poll results.
New product announcements, demos and reviews.
Unbeatable Soap Making Resource Sales!

Sign Up Today!

*Your information is SAFE with us!
Below are the step by step instructions for making an 8 ounce oil-based homemade bug repellent recipe batch.
Step 1) First, weigh out 7.2 ounces of grapeseed oil into an open mouth container. Make sure that the container you use for this step has a lid that you can tightly fasten. This is necessary to complete a future step within this tutorial. As you can see in the picture below, I am measuring out my grapeseed oil into a standard mason jar.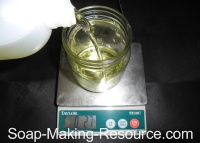 It is important to use grapeseed oil, or a carrier oil with a similar composition, as the base for this homemade bug repellent recipe. Grapeseed oil is an ideal ingredient for any formula in which the carrier oil is being applied directly to the skin. Grapeseed oil is an exceedingly light oil, absorbs quickly and won't cause your skin to feel overly greasy. You can use other oils, like olive oil, to create your homemade bug repellent if you wish, but it is definitely not ideal.
Step 2) Next, we are going to prepare the essential oils needed for this recipe. For this bug repellent batch, we will allow our essential oils to take up 10% of the total formula. We are making an 8 ounces batch of homemade bug repellent, therefore, we will be using .80 ounces (23 grams) of essential oils which is 10% of the total recipe. Once completed, our natural bug repellent formula will be a mixture of 7.2 ounces of grapeseed oil and .80 ounces (23 grams) of essential oils, creating a finished product weighing precisely 8 ounces.
If you want to make a batch of natural homemade bug repellent that is larger than 8 ounces, simply use the same ratio of 1 part essential oil to 9 parts grapeseed oil as you expand your manufacturing quantities.
When incorporating essential oils into any topical formula, you must use moderation as some essential oils can be irritating to the skin. Creating our bug repellent formula with a 10% content of our specific essential oils will be safe, yet effective for most users as long as the user has no allergy or sensitivity issues to the formula's ingredients. Be sure to label your product appropriately so that the consumer can recognize any ingredients that they may have sensitivities to. If you decide to incorporate alternate essential oils that are not mentioned within this tutorial, use extreme caution and do your research before including them within your product!
There are several essential oils that are effective bug repellents including catnip essential oil (80% nepetalactone), citronella (java) essential oil, eucalyptus essential oil, lavender essential oil, patchouli essential oil, peppermint essential oil and tea tree essential oil, just to name a few!
Citronella (java) essential oil is probably the most popular and arguably one of the most effective essential oil bug repellents. You can make this recipe using Soap Making Resource's all natural citronella (java) essential oil only or you can use a blend of various essential oils. In today's recipe, we are going to be using a blend of several different bug repelling essential oils to give our finished product a more appealing aroma. Our goal is to create a finished product that is somewhat aromatically attractive, yet remains effective.
Below is the essential oil blend that we will be creating:
Once your essential oil blend is created, you will have a total of 23 grams of essential oils, which is 10% of the total finished product as desired. When weighing out small quantities of essential oils, I recommend that you use grams instead of ounces. Measuring in grams, because it is such a small unit of measure is much more precise.
Weigh out each essential oil needed for your bug repellent blend into separate containers.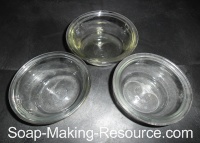 I recommend measuring each essential oil into a separate container as shown above so that if you accidentally over measure one of the blend's components, you can easily remove some of the excess oil with a pipette. This would obviously not be possible if you were measuring the essential oils into each another.
Once each essential oil is successfully portioned, combine them all into one dish.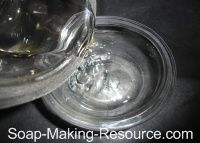 Combining the essential oils into one container will allow you to preview the aroma before adding it to the grapeseed oil base. This step will also give the essential oils an opportunity to meld together.
Step 3) Next, carefully pour your prepared essential oils into the grapeseed oil portion.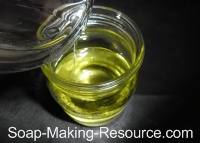 Step 4) Finally, place a lid onto your mason jar and shake the formula contents thoroughly until all ingredients within your homemade bug repellent fully integrate.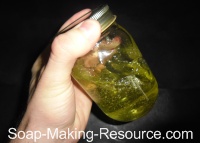 At this point, you have successfully created your homemade bug repellent. Congratulations! When you want to use this product, simply pour a small amount of the product into your hands and apply to your body as needed.
Alternately, you can transfer this batch into a spray bottle for easy application.
According to many reports, citronella effectively repels bugs for several hours. Be sure to re-apply when necessary!
There are some interesting alternatives for creating homemade bug repellents. You can mix your bug repelling essential oil blend into a hard lotion bar. Soap Making Resource has produced a very popular lotion bar recipe tutorial that you can view by clicking here! Simply create your lotion bar as described within the tutorial but replace the demonstrated essential oil blend with our bug repellent essential oil blend. Once completed, you will have a hard lotion bar that will effectively repel insects!
You can also create a natural bug repellent soap. Click here to view our insect repellent soap recipe which uses a blend of Soap Making Resource's citronella (java) essential oil, eucalyptus essential oil and tea tree essential oil. A great bug repelling combination!
Of course, you can also use Soap Making Resource's citronella (java) essential oil to create bug repelling citronella candles!
Thank you all for viewing our homemade bug repellent recipe. I hope that you benefit from it! Remember to stay bite free and chemical free this warm weather season!
Enjoy browsing soap-making-resource.com, your home for quality soap making supplies, equipment, and tutorials.
---
Return from homemade bug repellent to the soap recipes hub page.