Fall Essential Oil Blends
On this page, I am excited to share with you some of my all-time favorite fall essential oil blends. Autumn is filled with so many wonderful aromas. From warm cinnamon apple pie to the raw-earth scent of a pile of freshly raked leaves, fall offers so many meaningful odors that often spur our fondest memories to resurface.
SMR's fall essential oil blends try to capture the fond feelings of fall. Our carefully formulated recipes incorporate spicy warm-wooded scents with the occasional deep-earth and seasonally-sweet bouquet. Each blend has a delightful aroma, suitable for any cool autumn day.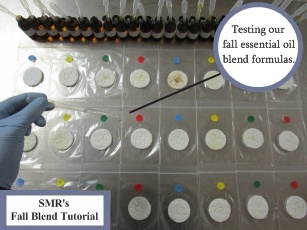 In all, SMR has formulated 24 different fall essential oil blends; each recipe having its own unique qualities. I have personally reviewed the aroma of each of these carefully created blends.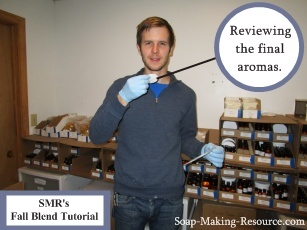 Below are 6 of my favorite fall essential oil blend formulas:
Free Soap Making e-Newsletter
Plus instantly receive one of my own personal soap recipe formulas using a combination of sweet almond oil, avocado oil, olive oil, coconut oil, palm oil, castor oil and shea butter scented with an intoxicating essential oil blend. This recipe is explained step by step in full detail. you're going to love it!
Instantly receive one of my own soap recipe formulas.
$5 Coupon off your first purchase of $30 or more!
Access to more exclusive subscriber coupons.
Future Soap making recipe tutorial announcements.
How to make lotions, bath bombs and more!
Interviews with successful soap makers.
Contests with awesome prizes.
Revealing soap making poll results.
New product announcements, demos and reviews.
Unbeatable Soap Making Resource Sales!

Sign Up Today!

*Your information is SAFE with us!
Fall Blend #1:
This fall essential oil blend from SMR incorporates the smooth, yet spicy aroma of clove bud; perfectly sweetened by SMR's orange 5x essential oil. This sweet and spicy aroma is then entwined with the famous fall fragrance of allspice essential oil. If you love the traditional bouquets of autumn, you will love this fall essential oil blend!
Fall Blend #2:
This fall-themed essential oil blend has a warm cedar wood and patchouli base followed by the lovely autumn-spice notes of rosewood and nutmeg. Throughout this blend a delicate floral aroma of lavender will subtly remind you of the warmer days ahead. This aromatically intricate autumn essential oil blend creates a simply pleasant fall-aroma.
Fall Blend #3:
This patchouli-based fall essential oil blend incorporates a lovely autumn-spice combination of nutmeg and warm black pepper essential oils... both perfectly balanced on top of the predominantly patchouli base. Premium lemon essential oil, the perfect seasonally-sweet addition, is then incorporated adding brightness and cheer to the final aroma. If you LOVE autumn and you LOVE patchouli then this autumn essential oil blend is most definitely for you!
Fall Blend #4:
SMR's bergamot mint and fir needle essential oils combine perfectly to offer a simple, yet unique fall-themed essential oil blend. This is a definite must try. One of my favorite autumn essential oil combinations!
Fall Blend #5:
This fall essential oil blend from SMR has a spicy frankincense base, nicely rounded with an optimal portion of clove bud essential oil. Sweet-wood and additional spice notes are then introduced through the inclusion of SMR's rosewood essential oil. Finally, a hint of peppermint and spearmint seem to whisper reminders of the Christmas season soon to come. This autumn essential oil blend from SMR is an absolute must try this fall season!
Fall Blend #6:
This fall essential oil blend from SMR begins with the spicy yet smooth aroma of clove bud essential oil followed by the fall scent of licorice-like anise (star) essential oil. Cinnamon leaf essential oil is then gently introduced to add a lovely seasonally-spiced bouquet. This fall blend incorporates 3 of my all-time favorite autumn essential oils; clove bud, anise (star) and cinnamon leaf. They intermingle beautifully to produce a fabulous fall fragrance.
Thank you all for viewing SMR's fall essential oil blends tutorial. When you get a chance, we encourage you to try them out for yourself. We are confident that you will love them!
We truly hope that these aroma formula ideas will spur your creativity as you develop your own custom scents. Remember, all the ingredients within these fall essential oil blends can be purchased right here at soap-making-resource.com.
If you have any questions please feel free to contact us. We are always more than happy to help!
---
Return from fall essential oil blends to the soap recipes hub page.