Emu Oil Lotion Bar Recipe
Within today's tutorial, I am going to be demonstrating Soap Making Resource's emu oil lotion bar recipe. This formula will incorporate many wonderful SMR ingredients including shea butter, yellow beeswax (pastilles), grapeseed oil, babassu oil and, of course, SMR's fully refined pure emu oil. Within this batch, we will also be integrating SMR's Australian tea tree essential oil, giving our finished product additional advantageous skincare properties as well as a light, pleasant medicinal aroma, uniquely characteristic of tea tree essential oil. Furthermore, our original emu oil lotion bar formula will include the addition of SMR's highly popular rosemary oleoresin, a natural antioxidant, to help extend the shelf life of our finished product and promote further skincare benefits when topically applied. The finished lotion bar, created with SMR's emu oil lotion bar recipe, will be a lovely skin-soothing treat that is perfect for daily use and for naturally treating troubled skin.
If you don't know what a lotion bar is, click here to find out now!
Below is a picture of the finished product produced with our emu oil lotion bar recipe:
So, what exactly is a lotion bar? A lotion bar is a solid bar of lotion that has been made through combining a mixture of moisturizing oils, wax (usually beeswax) and various beneficial skincare ingredients. The raw materials that make up a lotion bar must be combined at a specific formulated ratio that allows the finished product to remain solid at room temperature. A lotion bar is typically applied to the epidermis by allowing your own body heat to gently melt the outermost layer of the product (usually by rubbing the bar between the hands) and then applying this liquefied portion to the skin as needed. Lotion bars are easily portable and, due to the absence of a "water portion", can be manufactured without using synthetic preservatives! These two outstanding benefits make lotion bars exceedingly popular with people who desire a convenient and natural moisturizing method!
The emu oil lotion bar recipe that we will be demonstrating within this tutorial, will produce a 5 pound batch of finished product. I highly recommend that you use SMR's 5 pound no-line acrylic slab mold to perfectly shape your lotion bars. Click here now to check out this high-quality piece of equipment from SMR. It will work perfectly for forming a professional finished product!
Alternatively, you can pour your lotion bar batch into small metal tins, which will make your finished product neatly portable, or you can utilize a flexible "specialty shape" mold (like the type that is often used to mold chocolate) and form your finished product into your very own cute custom shapes. No matter what type of mold you decide to use, be sure to check with the manufacturer to make sure that your mold is compatible for use with this recipe!
Molds Caveat:
if you decide to use a
wooden mold
to form this batch, you
MUST
line it with butcher or freezer paper (with the wax side facing outwards) to prevent the lotion bar batch from sticking to the mold.
Click here now for a great tutorial on how to line a wooden mold!
Furthermore, you must be sure to pour your batch into your lined wooden mold after the batch has substantially cooled. If you pour your lotion bar batch while it is too hot,
you could unintentionally melt the wax layer off of the liner
, allowing the ingredient mixture to seep through the liner and directly into your wooden mold...
This would be a real mess!
Just don't let your batch cool down so much that your materials solidify in the pot. If this happens, of course, it would make it impossible to pour your lotion bar batch into any type of mold and consequently, you will have to re-melt your entire ingredient mixture!
Finally, if you own one of SMR's acrylic log soap molds, keep in mind that this type of mold is not ideal for use in manufacturing lotion bars. Our acrylic log mold is designed to have a plastic plate embedded within the interior of the mold. This plastic plate covers the two open holes in the bottom of the mold, in which the integrated soap pushers are inserted, allowing for steady downward pressure onto these soap pushers to guide the solidified finished product out of the mold. Unlike cold process soap, for which this mold is designed, your liquefied lotion bar batch will be significantly thinner than a fully traced cold process soap batch causing there to be great potential for your lotion bar ingredients to seep underneath the plastic embedded plate, through the integrated soap pusher holes and right out of the mold... Another mess that we are trying to help you avoid! If, however, you absolutely must use your SMR acrylic log soap mold when making this lotion bar recipe, before you pour in your batch, I recommend that you form a seal between the inserted plastic plate and the bottom of your mold using a thin layer of petroleum jelly. Just remember to only coat the side of the plate that will be facing downwards in order to prevent your lotion bar batch from coming into contact with this substance. Bottom line... SMR's acrylic log soap mold is an incredible tool for cold process soap making, but it is not so great for manufacturing products that are very thin during the liquid stage, like lotion bars!
Below is the exact emu oil lotion bar recipe formula that we will be using to make our batch:
*All ingredients used within this emu oil lotion bar recipe are available to purchase in bulk, right here at soap-making-resource.com.
*All "ounces" within this recipe are weight ounces, not liquid ounces.
*I recommend that you weigh out the rosemary oleoresin and tea tree essential oil within this recipe using grams instead of ounces. This small unit of measure is much more precise, which makes it ideal for measuring out small ingredient quantities.
Below is our step by step "picture tutorial" for creating this emu oil lotion bar recipe. We hope you enjoy it everyone!
Free Soap Making e-Newsletter
Plus instantly receive one of my own personal soap recipe formulas using a combination of sweet almond oil, avocado oil, olive oil, coconut oil, palm oil, castor oil and shea butter scented with an intoxicating essential oil blend. This recipe is explained step by step in full detail. you're going to love it!
Instantly receive one of my own soap recipe formulas.
$5 Coupon off your first purchase of $30 or more!
Access to more exclusive subscriber coupons.
Future Soap making recipe tutorial announcements.
How to make lotions, bath bombs and more!
Interviews with successful soap makers.
Contests with awesome prizes.
Revealing soap making poll results.
New product announcements, demos and reviews.
Unbeatable Soap Making Resource Sales!

Sign Up Today!

*Your information is SAFE with us!
Step 1) For our first step, we need to measure out the base ingredients needed for our emu oil lotion bar recipe. Carefully weigh out 28 ounces of shea butter, 27 ounces of yellow beeswax (pastilles), 14 ounces of grapeseed oil, 8 ounces of babassu oil, and 3 ounces of SMR's fully refined pure emu oil. As shown in the picture below, we are measuring these ingredients into a standard kitchen pot, but you can also measure your ingredients into a double boiler or crockpot if you so desire.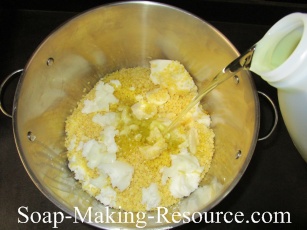 Step 2) Next, melt all of these carefully measured ingredients down to a liquid form. Once fully melted, mix them together using a heat-safe stirrer. This will ensure that all of your melted ingredients have fully combined together. As you can see in the picture below, we are using a silicone spatula to mix our ingredients.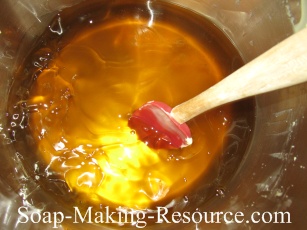 Note:
Make sure you use a
very low temperature setting
to melt down your butter, wax and oils mixture. Needless to say, this ingredient combination is
extremely flammable
, so it is important that you constantly monitor your mixture during the melting process. Just keep in mind that due to the relatively high melting temperature of
beeswax
(approximately 145 degrees Fahrenheit), it will take some time for this particular ingredient to fully liquefy!
Step 3) Next, measure out the 3 grams (.106 ounces) of SMR's rosemary oleoresin (a natural antioxidant) that is needed for this batch and incorporate this portion into your melted ingredient mixture.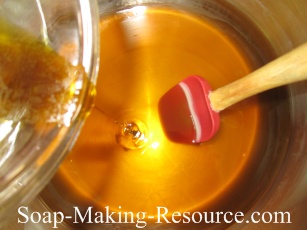 Note:
I recommend that you allow your oil mixture to
cool down slightly
before adding the
rosemary oleoresin antioxidant
to your batch. This will help ensure that extreme heat won't be present that could unintentionally compromise the integrity of your antioxidant.
Due to its antioxidant properties, rosemary oleoresin, sometimes abbreviated as "ROE", will help maximize your product's shelf life by mitigating the oxidation of your finished product's ingredients. This unique item from SMR will also add additional epidermal benefits to your finished lotion bar!
Step 4) Next, measure out the 45 grams (1.587 ounces) of SMR's Australian tea tree essential oil that is needed for this batch and stir this portion into the rest of your emu oil lotion bar recipe ingredients.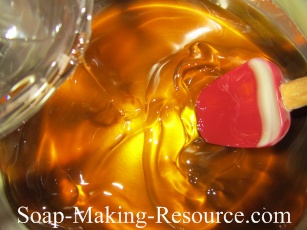 Tea tree essential oil is considered by formulary experts to be antibacterial, antifungal, antimicrobial, antiseptic, antiviral, a naturally effective deodorant, an effective treatment for acne (as well as many other epidermal issues) and an all-around advantageous skincare ingredient. Tea tree essential oil is the perfect addition to our emu oil lotion bar recipe. This important ingredient will add great value to your finished product!
Note: At this stage in the recipe, be sure to work somewhat quickly. If too much time is allowed to pass, the temperature of your ingredient mixture could drop so low that your batch will inadvertently solidify in the pot. This, of course, would make it impossible to pour your emu oil lotion bar recipe batch into a mold. If your ingredients do accidentally solidify, you can gently re-melt all of the ingredients using the same heating method that you had used originally.
Step 5) At this point, all of your emu oil lotion bar recipe ingredients have been thoroughly combined. You can now pour your completed batch into your mold. Again, I highly recommend that you use the Soap Making Resource 5 pound no-line acrylic slab mold, as demonstrated in the picture below, to form your finished product. This mold will work perfectly with this batch!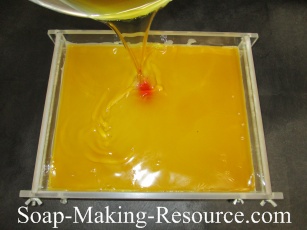 Step 6) Next, place the slab mold divider set securely into the mold and push it down into your liquid lotion bar batch.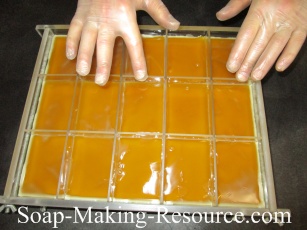 As your batch hardens, the divider set, which is included with each Soap Making Resource acrylic slab mold, will form professional, beautifully shaped individual lotion bars.
Step 7) Finally, we need to remove our finished product from the mold. Once your emu oil lotion bar recipe batch has fully solidified, gently lift out the acrylic divider set, carefully disassemble the mold and remove each of your lovely lotion bars.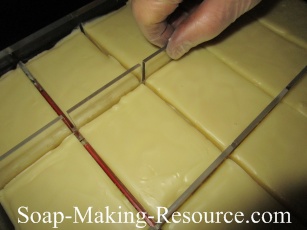 Be sure to handle your lotion bars gently when removing them from the mold. Solid lotion bars can be somewhat soft, at first, and prone to damage.
Step 8) Optionally, you can use SMR's acrylic beveler/planer to trim off the edges of each lotion bar, giving your finished product a more polished and professional look and feel. Again, this step is entirely optional!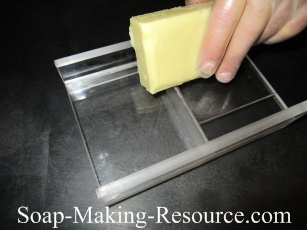 Your emu oil lotion bar recipe batch is now 100% complete and ready to use! We are confident that you will LOVE hydrating, soothing and nourishing your skin with this all-natural and preservative free lotion bar. In fact, this valuable product may be a hit with not just you, but your customers too!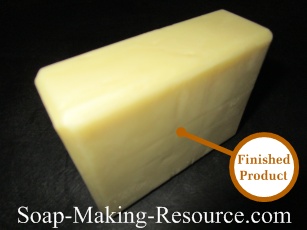 Note:
Unlike
soap that is made from scratch
, this emu oil lotion bar recipe does not involve
saponification
and does not incorporate a water portion that would inevitably need to evaporate over a period of time; therefore,
you do not have to cure this batch
. You can use or sell your finished product right away!
Thank you all for reading our emu oil lotion bar recipe tutorial. We sincerely appreciate it! It is our goal for this tutorial to be a valuable guide to making skin-loving, nutrient-rich emu oil lotion bars. We hope that we have accomplished this task!
Whether you are using this recipe to create lotion bars for your own personal use or you are using this recipe to make a top-notch moisturizer to include in your product line, we hope that this emu oil lotion bar recipe demonstration has helped you in a meaningful way to accomplish your goal!
If you have any questions about this recipe, or about SMR's many quality products, please give our office a call at 717-397-4104. We are always glad to help you!
Remember, all the ingredients used within this demonstration are available to purchase in bulk, right here at Soap Making Resource. Also, be sure to browse soap-making-resource.com for more exciting homemade soap and topical product manufacturing tutorials!
---
Return from emu oil lotion bar recipe to the soap recipes hub page.