Calendula Soap Recipe
Today I am going to be sharing with you an all natural calendula soap recipe. It is an amazingly moisturizing soap that incorporates homemade fresh calendula oil topped with our beautiful golden calendula petals. This soap recipe will make a 5lb batch of soap (about 16 bars) and will work perfectly with our 5lb acrylic soap mold or 5lb wooden soap mold.
This soap making tutorial is packed with plenty of pictures and detailed step by step instructions. I think you will enjoy it! Let me know if you have any questions as you learn how to make calendula soap!
Below is a picture of the finished soap produced by this calendula soap recipe... Isn't it beautiful!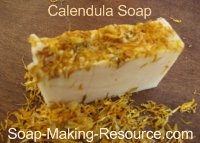 Get the Kit! (Out of Stock)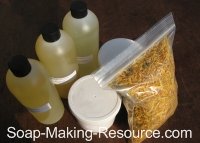 The calendula soap recipe is now available as a soap making kit exclusively at soap-making-resource.com. The kit will include 32 ounces rice bran oil, 16 ounces sweet almond oil, 16 ounces castor oil, 13.5 ounces coconut oil, 13.5 ounces palm oil (RBD) and 2 ounces of calendula petals. This is more than enough to make the 5lb batch as described below! Also available separately is our 5lb acrylic soap mold and 5lb wooden soap mold that will work perfectly with the calendula soap recipe. Full written instructions will also be provided with your kit!
Calendula Soap Recipe Kit: $46.75 Out of Stock

* The kit will come complete with all ingredients to make your own calendula soap exactly as described in the tutorial below except for the sodium hydroxide and distilled water. I will include contact information for my personal source of lye with your kit! Just so you know, many local hardware stores do still carry 100% pure sodium hydroxide too, so you will probably be able to pick some up near your home. You can pick up distilled water at almost any grocery store!
Of course, all ingredients shown in this tutorial are also available to purchase in bulk from Soap Making Resource if you need to make a bigger batch!
Below is the exact calendula soap recipe formula that I will be using:
*This recipe has a 5% super-fat.
*All measurements are weight measurements, not liquid measurements.
This particular batch, I made fragrance free, as I think that it does so well on its own without any added scent. It's a great natural and gentle soap perfect for people with sensitive skin who want to experience the healing properties of calendula!
Here is the step by step process for this calendula soap recipe:
Step 1) The very first step for this calendula soap recipe is to create the calendula oil. This is done by combining 1/2 ounce of calendula petals with the 26.50 ounces of rice bran oil that is needed for your batch.
Add the calendula petals and rice bran oil combination to your crock-pot and set at a low temperature. If you don't have a crock-pot, you can complete your infusion in a pot on your cook-top. Just make sure you keep the temperature as low as it can go!
This mixture will need to simmer for 1 - 2 hours. You should make your calendula oil first as it will take a little while for the infusion to take place. While you are waiting, you can accomplish other steps in your soap recipe!
Here's a picture of my calendula oil infusing: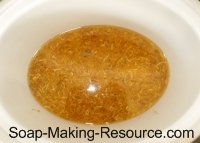 Step 2) While we wait for the calendula to infuse into your olive oil, we are going to create the lye solution. Measure out your 202 grams of dry lye that is required for this recipe in a small container.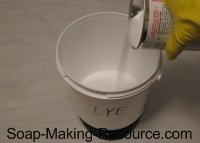 Next measure out 20 ounces of distilled water in a completely separate container from the lye. I recommend using distilled water if possible!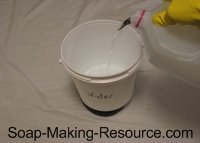 Now pour your dry lye into your measured out distilled water to create the lye solution.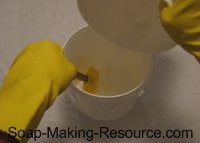 As you combine the two components, you will feel your water and lye mixture begin to heat up and there will also be some fumes present. Be sure to create your lye solution in a well ventilated area as you want to avoid breathing in these fumes. After a few minutes, the fumes will dissipate.
You have now successfully created your lye solution for the calendula soap recipe. At this point, you want to place one of your thermometers into the lye solution so that you can monitor its temperature.
I use a simple candy thermometer that you can pick up for a few bucks at your local grocery store. Eventually, we want this solution to drop in temperature to around 110 degrees Fahrenheit. Set it off to the side in a safe area where it won't be knocked over while it cools.
Step 3) As our lye solution cools and we continue to wait for the calendula oil to be created via the infusion, we are going to measure out the oils for our soap recipe and melt them all down. This should be done in your stainless steel soap pot. Go ahead and measure out the oils according to the recipe above. Remember, you need 26.5 ounces of rice bran oil, 10.6 ounces of coconut oil, 7.95 ounces of palm oil, 5.3 ounces of sweet almond oil and 2.65 ounces of castor oil. Place the pot on your oven burner at a very low temperature and allow all the oils to melt to a liquid form.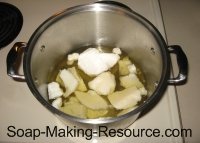 Step 4) Once your oils have completely melted, it is time to add the calendula infused rice bran oil to the rest of the melted soap making oils. At this point, your calendula infusion will be just about ready to go.
Your calendula petals should infuse for about 1 - 2 hours, so if you did the prior steps quickly, you may need to wait a bit longer till the calendula infusion is ready. Calendula oil should have a yellowish tint to it! During the infusion, the beneficial properties of calendula are extracted into the oil as is some of the color!
During this waiting period, you can make sure everything is prepared for making soap! Is your mold ready to go? Is your stick blender or manual mixing utensil clean and ready to be used? Check on all this stuff now so that you are ready when it is time to combine the ingredients and make soap!
If you are satisfied with the amount of time your calendula has infused, we will now remove the petals from the rice bran oil and add our freshly made calendula oil to the main soap making pot with the other oils.
I recommend straining out the petals as you pour them into the rest of the oils in your soap pot. Simply place your strainer over the soap making pot and pour in your oil filtering out the petals. Do this carefully as your crock-pot is very hot and so is the oil!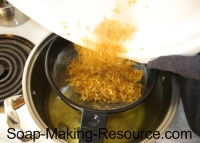 Once all the oils are combined, place a thermometer into the oils and set it off to the side.
You can toss out the soaked petals as once they have been saturated with fat, you really can't save them. If you do wish to use them in your batch, you can add the petals directly to the soap at trace, but more then likely, they will turn brown quickly and be kind of "goopy" in your finished product. I personally prefer to decorate the top of my soap with fresh calendula instead of mixing the petals into the batch. A very natural and beatiful artisan design indeed! I will show you how to do this later in the tutorial.
Free Soap Making e-Newsletter
Plus instantly receive one of my own personal soap recipe formulas using a combination of sweet almond oil, avocado oil, olive oil, coconut oil, palm oil, castor oil and shea butter scented with an intoxicating essential oil blend. This recipe is explained step by step in full detail. you're going to love it!
Instantly receive one of my own soap recipe formulas.
$5 Coupon off your first purchase of $30 or more!
Access to more exclusive subscriber coupons.
Future Soap making recipe tutorial announcements.
How to make lotions, bath bombs and more!
Interviews with successful soap makers.
Contests with awesome prizes.
Revealing soap making poll results.
New product announcements, demos and reviews.
Unbeatable Soap Making Resource Sales!

Sign Up Today!

*Your information is SAFE with us!
Step 5) Next we are going to check the temperature of our lye solution and soap making oils. They should both be at around 110 degrees Fahrenheit. This does not need to be exact! Just get it somewhere in the near vicinity. 110 degrees Fahrenheit is my preferred temperature to combine the ingredients for the calendula soap recipe. Some soap makers will soap at a hotter temperature and some will soap at a cooler temperature, but I like 110 degrees!
Is your lye solution and oil mixture at just about the correct temperature? Okay good! We are now ready to combine our calendula soap recipe ingredients and make soap!
Step 6) At this point, our lye solution and oils mixture (along with the calendula oil) has been created and both are near your desired temperature. In this step, we will combine the ingredients and mix them thoroughly until trace is reached. Watch as science takes over!
Carefully pour your lye solution into the soap making oils...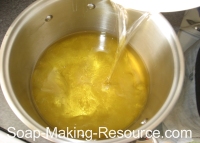 Now stir gently with your manual mixing utensil. You can use a silicone spatula, stainless steel spoon or stainless steel whisk to do your mixing.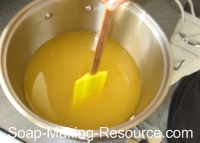 Once your lye solution and soap making oils are initially combined, take out your stick blender and mix until you reach trace. A stick blender is not necessarily essential to make soap. You can mix manually until trace is reached if you prefer. I personally like to use the stick blender though!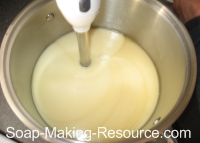 You can test for trace by dribbling a small portion of your soap onto the surface of your main batch and watch to see if it sits on top of the soap or sinks back in. If it sits on top, trace is reached and your soap is ready to pour. The soap should be about as thick as mayonnaise or a thin pudding.
Step 7) Now that your soap is thoroughly mixed pour it into your mold. As you can see below, I am using the five pound Soap Making Resource no-line acrylic soap mold. The soap's yellowish hue is looking beautiful!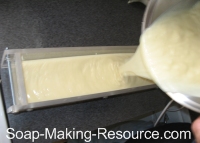 Step 8) Once your soap is poured, line the top of the log with extra calendula petals for decoration. Our kit for this calendula soap recipe comes with plenty of calendula petals to play with! Push lightly on the petals so that they stick to the wet soap. As the soap cures and hardens, the calendula petals will be attached to the top of your soap! Beautiful!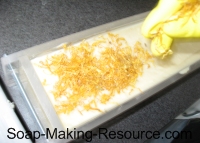 Step 9) Finally, place the lid on your mold and set it off to the side to cure. The soap should stay in the mold for around 24 hours or until it is hard enough to remove without damage.
Optionally, you can insulate your soap with towels during this initial cure time allowing the soap to "Gel". When your soap gels, it acquires a different texture and usually darker color than non-gelled soap. Gelled soap is still a solid bar, but it has almost a more transparent look to it.
Whether you gel your soap or not is totally up to you! Some people prefer the look and feel of gelled soap while others prefer the more creamy look and feel of non-gelled soaps. As you continue to make soap batches, experiment with both options and see which one you favor!
Step 10) After your soap is removed from the mold, cut the log into bars and store them on a rack to cure. You can use the Soap Making Resource guided soap cutter to cut both wavy bars and straight bars with ease!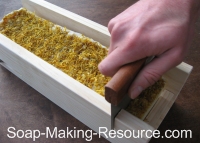 After a few weeks it will finally be time to enjoy your newest creation. You will love the way this soap feels on your skin! This calendula soap recipe really does produce an amazing luxurious soap.
I hope you all enjoyed this natural calendula soap recipe! More recipes will be added on a regular basis, so please check back often. Oh, and don't forget to pick up the kit if you want to try this recipe on your own!
---
Return from calendula soap recipe to the soap recipes hub page.