Guided Soap Cutter
Soap Making Resource is now offering a guided soap cutter that is hand crafted out of premium pine. This is a wonderful and inexpensive tool for those who want to cut perfectly even and uniform bars every single time. With this new cutter, you can now make both wavy cuts and straight cuts with a single unit. A definite benefit!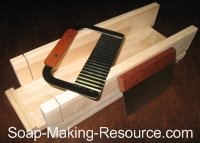 This tool is very easy to use! Just adjust the movable stop using the fasteners on the side of the unit to the thickness that you want your bar. Secure the adjustable stop in place by hand-tightening the bolts. Finally, place your soap loaf onto the unit and make your cuts! After each bar is sliced, simply remove the bar, push the soap loaf forward and cut again. It's that simple! Trust me... you will speed up your soap cutting time tremendously.
Here's an up-close picture of the stop, and cutting slot on the Soap Making Resource guided cutter: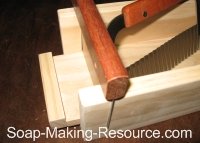 Here's a picture of the fastening bolts on the side of the unit that secures the stop in place: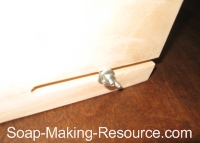 The great thing about this new Soap Making Resource unit is that you can adjust your cutter to cut the bars at any thickness you desire... from paper thin to as thick as 4 inches! You can even adjust the stop all the way in and shave off the undesirable ends of your soap log without wasting the entire first and last bar!

Guided Miter Box Soap Cutter (Out of Stock)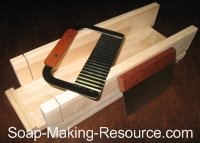 The guided soap cutter is 16 inches long, 4.25 inches wide and 2.75 inches tall to accommodate even the largest of soap loafs. Each miter box soap cutter can produce as many different thicknesses as you want up to 4 inches!
Plus, as a special bonus, each of these wooden soap cutting tools comes with a free stainless steel wavy blade soap cutter and free stainless steel straight blade soap cutter as seen in the picture above! Both will work perfectly with the unit.
Guided Soap Cutter: $43.00 Out of Stock
Thank you for taking the time to learn about my guided miter box soap cutter. Please contact me if you have any questions!
Free Soap Making e-Newsletter
Plus instantly receive one of my own personal soap recipe formulas using a combination of sweet almond oil, avocado oil, olive oil, coconut oil, palm oil, castor oil and shea butter scented with an intoxicating essential oil blend. This recipe is explained step by step in full detail. you're going to love it!
Instantly receive one of my own soap recipe formulas.
$5 Coupon off your first purchase of $30 or more!
Access to more exclusive subscriber coupons.
Future Soap making recipe tutorial announcements.
How to make lotions, bath bombs and more!
Interviews with successful soap makers.
Contests with awesome prizes.
Revealing soap making poll results.
New product announcements, demos and reviews.
Unbeatable Soap Making Resource Sales!

Sign Up Today!

*Your information is SAFE with us!
---
Return from the guided soap cutter page to the main soap cutter page.