Baby Soap Recipe
Here is a wonderful baby soap recipe that I think both you and all the little ones out there will love! The key to a great baby soap is to use a high super-fat formula that is exceptionally gentle and incorporate only safe, skin-loving additives mild enough for a baby's gentle skin.
My baby soap recipe will incorporate infused chamomile in grade A olive oil, and a small portion of castor oil to increase the lather. This recipe will also have an 8% super-fat level which is substantially higher than the standard 5% that I use for most of my other recipes. The increased super-fat percentage will ensure a very gentle bar.
I like to keep added fragrances away from baby soaps, so this recipe will be fragrance oil and essential oil free. Using herb infused oils, however, is a great way to add light scent to your finished product without causing your soap to be too harsh for gentle skin. It will also incorporate the beneficial properties of the herb at hand into your soap. All will be explained in the following tutorial on how to use herb infused oils in your baby soap recipe!
This baby soap recipe is perfect whether you are selling your products, or giving your soap away. Homemade baby soap makes a really great gift at baby showers too!
Of course, for any baby soap recipe you want to make sure that all ingredients you use are safe for children. If you are giving your soap away be sure to check with parents first for allergies! Also, always be sure to clearly label the ingredients used in your baby soap so that if there is an item that will cause a reaction, the consumer will be fully aware of its presence.
This baby soap recipe will make a 5 pound batch of soap and will work perfectly with our 5 pound wooden soap mold or 5 pound acrylic soap mold!
Below is a full tutorial on how to make baby soap. Here is a picture of the finished product: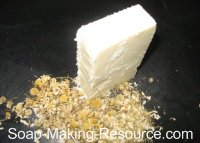 Get the Kit! (Out of Stock)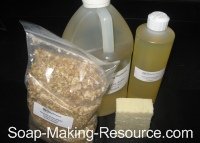 Get the baby soap recipe kit today and try this soap for yourself! The kit will include 64 ounces of olive oil, 16 ounces of castor oil and 1/4 pound of chamomile flowers. This is more than enough ingredients to make a five pound batch of baby soap as described below!
I recommend picking up separately the Soap Making Resource 5 pound wooden soap mold or Soap Making Resource 5 pound no-line acrylic soap mold. Either one will work perfectly with this recipe if you don't already have one of our molds!
Also included are full recipe instructions as well as my own personal source for lye.
Baby Soap Recipe Kit: $37.34 Out of Stock

The baby soap recipe kit will not include lye (sodium hydroxide) or distilled water. Contact information for my personal source for lye will be included with the kit, although you may be able to find lye locally at some hardware stores. Distilled water for this recipe can be picked up at any grocery store.
* In addition to soap making kits, Soap Making Resource also supplies all ingredients in bulk.
Here is the exact baby soap recipe that I will be using:
Olive Oil = 48.75 Ounces (92% of total oils)
Castor Oil = 4.25 Ounces (8% of total oils)
Distilled Water = 20 ounces
lye = 6.578 ounces (186 grams)
*This recipe has an 8% super-fat.
*All measurements are weight measurements, not liquid measurements.
Below is the step by step process for making baby soap...
Step 1) Our very first step is to create the chamomile infused olive oil that will be needed for our baby soap recipe. It is important to do this first so that the infusion can take place while you are preparing the other ingredients for the batch. For this recipe, our entire portion of olive oil will be infused with chamomile.
To create your infusion, simply measure out 65 weight ounces of olive oil and 1/4 pound chamomile flowers into your crock pot. Set your crock pot on a low heat setting. Ideally you want the olive oil and chamomile combination to infuse for about 2 hours, so it may be best to start the infusion 60 - 90 minutes prior to setting up for your batch.
Be sure to keep the crock pot on low as you don't want to scorch the oils or the flowers. Over the course of the infusion, the skin-loving liquids from this special botanical will extract into the olive oil offering beneficial properties to your soap and a pleasant aroma.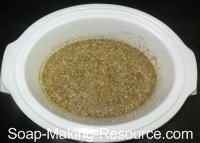 Our baby soap recipe only calls for 48.75 ounces of olive oil. Why are we using more than we need to create the infusion? This is because during the infusion process, some of the olive oil will be absorbed by the dried chamomile flowers. Creating the infusion with a little bit more olive oil than what we need for the baby soap recipe ensures that there will be enough infused oil when measuring out the exact proportion needed for the batch.
Step 2) Next, while we continue to wait for the chamomile to infuse into the olive oil, we will prepare our lye solution. Measure out 186 grams of dry lye into a chemical safe container.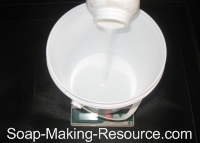 Next, weigh out 20 ounces of distilled water. Be sure to use only distilled water for this baby soap recipe!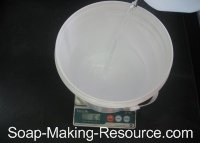 Finally, pour the carefully measured dry lye into the water portion. As you complete this process and combine the ingredients, you will notice that the water will rapidly heat up and some fumes will be present. It is best to create your lye solution in a well ventilated area.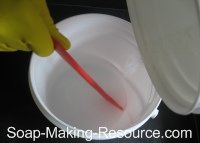 Place a thermometer into the newly created lye solution and set it safely off to the side to cool. Before we make our baby soap we want the lye water to drop in temperature to around 100 degrees Fahrenheit.
Step 3) While the lye solution is cooling and our chamomile continues to infuse into the olive oil portion, we are going to measure out the other oils in our recipe. For this baby soap recipe, the only other oil we will be using besides chamomile infused olive oil is castor oil. Castor oil will substantially increase the lather in your soap.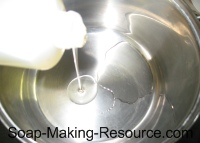 Soaps that are made with 100% olive oil tend to be slimy with very little lather. Adding a small amount of castor oil will help remedy this issue by increasing the lather content while allowing the bar to remain exceptionally gentle.
Step 4) Next we need to prepare the proper portion of chamomile infused olive oil needed for our baby soap recipe. Has your chamomile been infusing into your olive oil portion for about 2 hours? Can you smell the wonderful aroma? Relaxing, right!
If the chamomile and olive oil have not quite infused for 2 hours, you can feel free to put everything on hold until the infusion is ready. If, however, you have reached the two hour marker, the next step is to carefully filter out the chamomile flowers from the oil.
Free Soap Making e-Newsletter
Plus instantly receive one of my own personal soap recipe formulas using a combination of sweet almond oil, avocado oil, olive oil, coconut oil, palm oil, castor oil and shea butter scented with an intoxicating essential oil blend. This recipe is explained step by step in full detail. you're going to love it!
Instantly receive one of my own soap recipe formulas.
$5 Coupon off your first purchase of $30 or more!
Access to more exclusive subscriber coupons.
Future Soap making recipe tutorial announcements.
How to make lotions, bath bombs and more!
Interviews with successful soap makers.
Contests with awesome prizes.
Revealing soap making poll results.
New product announcements, demos and reviews.
Unbeatable Soap Making Resource Sales!

Sign Up Today!

*Your information is SAFE with us!
You can use a fine mesh strainer, cheese cloth or a paint strainer bag to complete this step. Simply pour all of the infused olive oil through your strainer of choice into a separate container filtering out any and all plant matter. The actual chamomile plant matter will be filtered out and you will be left with pure chamomile infused olive oil.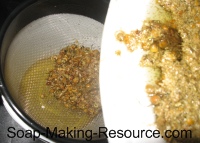 Be careful as your strain out the flowers! Even though your crock pot was on a low heat setting the oil can still be very hot!
Step 5) Now that the chamomile infused olive oil is successfully prepared, measure out 48.75 ounces of this ingredient into your main soap making pot that currently houses your castor oil portion. If you find, for some reason, that you are short the needed amount of infused olive oil for the batch because too much oil was absorbed by the flowers, you can always add a little bit of non-infused olive oil till you reach 48.75 ounces.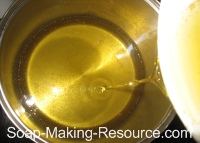 Step 6) Next, we need to take a look at the temperature of our oils and lye. I personally like to mix my ingredients at anywhere between 90 degrees and 120 degrees Fahrenheit. The temperatures don't need to be exact, but if you need to do a little bit of adjusting, now is the time!
Are your oils and lye solution too warm? Simply cool them off by placing the containers into a sink filled with ice water. Check the temperatures regularly as this method will rapidly chill your ingredients. If they are too cool, you can use the same exact method as explained above, only fill your sink with piping hot water to increase the temperature of your oils and lye.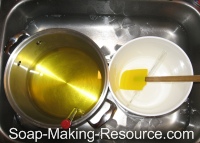 Step 7) At this point, all your ingredients should be measured out and your lye solution and oils mixture should be at your desired temperature. We are now ready to make soap!
Slowly pour the lye water into your oils and stir manually for a few minutes until your concoction is an even color and texture.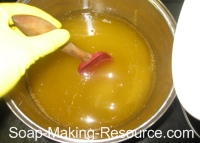 Next, prepare your stick blender and begin to thoroughly mix your oil and lye. Gradually, you can increase the speed of your stick blender if you want to reach trace more quickly. Keep in mind that because of the high super-fat and large amounts of liquid oil that make up this recipe, it will take a bit longer to trace than usual.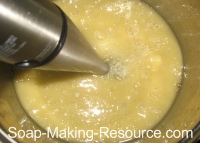 Is your soap starting to thicken up? Good! Test for trace by dribbling a small amount of soap batter onto the surface of the rest of the soap in your pot. If the dribbled soap remains on the surface for a few moments before sinking back into the rest of the mixture, you have reached trace! I personally like to keep mixing until my soap is at a medium trace or at about the consistency of a thin pudding.
Step 8) Now that your soap has thickened up a bit, it is time to pour it into the mold. As you can see in the picture below, I am using the Soap Making Resource 5 pound no-line acrylic log mold!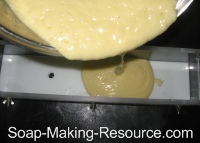 Step 9) At this point, place your finished baby soap recipe batch off to the side to cure.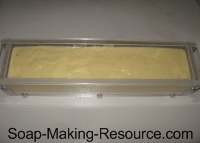 You can insulate the mold with towels if you want your product to gel. Whether you complete this step or not is totally up to you! Insulating your batch will cause the heat produced by the saponification reaction to build causing your soap to go through the gel stage. Gelled soap will have a darker color and a unique appearance and texture. If you want your soap to remain a light color and look intensely creamy, then don't insulate the soap!
Because of the high content of liquid oils within this batch, it will take longer to solidify within the mold. In fact, this soap may need to stay in the mold for a couple of days before it is hard enough to remove from your mold!
Step 10) Once your soap is solid enough to remove without damage, remove your log of soap from the mold.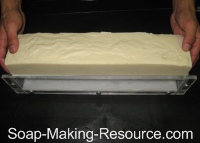 Step 11) Next, cut your newly created log of soap into bars. As you can see in the picture below, I am using the Soap Making Resource guided soap cutter to do this.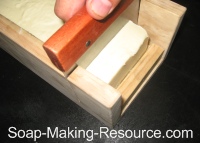 Step 12) Finally, set the freshly cut bars on a rack to cure.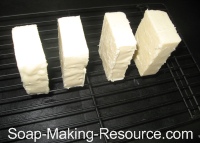 Every few weeks flip the bars over so that all sides are fully exposed to the air. Keep in mind that the cure time for this baby soap recipe is a lot longer than a typical soap bar because liquid oils only were used in the recipe formula as well as a high super-fat percentage.
My baby soap recipe is formulated without any hard oils like coconut or palm because those particular oils will create a soap that "cleans" very well and may be too harsh for a baby's gentle skin as it removes some of the skin's natural oils. Some of the hard oils also have higher allergy potential for the little ones.
Initially this soap will be very soft, but after a few months it will be hard as a rock and absolutely divine!
I hope you all enjoyed this baby soap recipe tutorial. Feel free to pick up the kit to try this recipe for yourself at home or you can always purchase all ingredients in bulk right here at soap-making-resource.com.
---
Return from baby soap recipe to the soap recipes hub page.