Tea Tree Oil Ointment Recipe
Within this tutorial, we are going to demonstrate our multi-purpose tea tree oil ointment recipe. When I say multi-purpose, I definitely mean multi-purpose! The finished ointment produced by this formulation can be used in many different ways. You can massage it into your scalp; which may soothe various dry and itchy scalp conditions. You can apply it to damaged, cracked "winter skin" to potentially help restore the affected area. Or, you can even use it as a cracked heel salve and work towards healing those heels!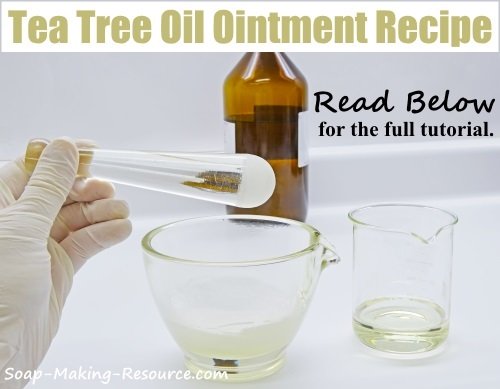 I'm sure there are many other ways in which you can use this tea tree oil ointment recipe and take advantage of the nutrient dense ingredients that comprise this original formula. Just use your creativity! Perhaps this tea tree oil ointment recipe will be a hit with your customers because of its incredible versatility!
Making our tea tree oil ointment recipe requires just 5 simple SMR ingredients:
* The above formula will make a 1 pound batch of finished product.
The proportions within this formula are very important for creating a finished product with a consistency that lends well to easily applying the ointment. Unlike some ointment recipes, this formula produces a product that is viscous and perfect for packaging in an open mouth glass jar or tin. The end user can then simply scoop some product out of the container with a finger and apply where needed. Our finished product's consistency, I think, is advantageous over a completely liquid product that tends to run everywhere making it difficult to apply.
Note to sellers: Keep in mind that you would typically package and sell a retail product like this in a small 1 ounce to 2 ounce container depending on your specific market and desired price point. So, a 1 pound batch of our tea tree oil ointment recipe will make anywhere from 8 - 16 finished units depending on your packaging size! This high-end all-natural (non-water-based and consequently preservative free!) ointment which is formulated with nutrient rich ingredients could easily sell for $12 - $18 or more per unit. With the right marketing and the right packaging, our tea tree oil ointment recipe could help you create a very nice high margin product for you and your business! Remember, there is no water within this formula, so the finished product is obviously going to be more expensive than a formula (like most lotions) that is typically comprised of 60% or more water. Despite the higher cost per ounce, the end-user will find great value in this product since a little goes a very long way due to the composition of this formula containing 100% oil! A 1 ounce or 2 ounce portion will last for MANY applications!
Below is the step by step process for making our tea tree oil ointment recipe.
Free Soap Making e-Newsletter
Plus instantly receive one of my own personal soap recipe formulas using a combination of sweet almond oil, avocado oil, olive oil, coconut oil, palm oil, castor oil and shea butter scented with an intoxicating essential oil blend. This recipe is explained step by step in full detail. you're going to love it!
Instantly receive one of my own soap recipe formulas.
$5 Coupon off your first purchase of $30 or more!
Access to more exclusive subscriber coupons.
Future Soap making recipe tutorial announcements.
How to make lotions, bath bombs and more!
Interviews with successful soap makers.
Contests with awesome prizes.
Revealing soap making poll results.
New product announcements, demos and reviews.
Unbeatable Soap Making Resource Sales!

Sign Up Today!

*Your information is SAFE with us!
Note: We are showing both the ounce measurements (weight ounces, not liquid ounces!) and gram measurements within the recipe below. If possible, I recommend that you measure out your ingredients using grams. Measuring using this small unit of measurement is much more precise than measuring in ounces. If you decide to measure out your ingredients in ounces, just keep in mind that if your weights are marginally off, the consistency of your finished product will be slightly different than the test batch that we created!
Step 1) First, measure out your 4.32 ounces (122 grams) of SMR's unrefined shea butter.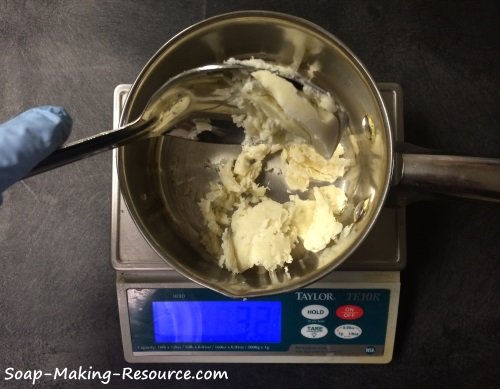 Shea butter is the only solid fat/oil within our formula. It's an integral component for successfully producing the appealing texture of our finished product.
Step 2) Next, gently melt down your measured out unrefined shea butter portion. Do this on a very low heat setting so that you do not scorch this important ingredient!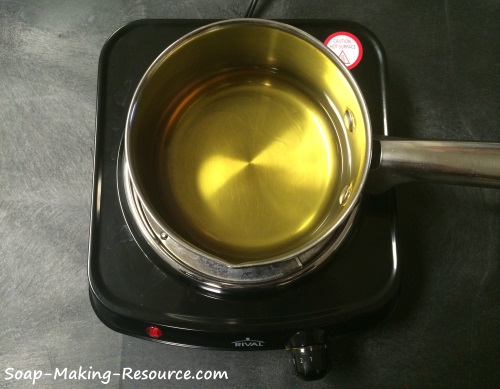 Step 3) Now that your unrefined shea butter is thoroughly melted, measure out and add the 2.4 ounces (68 grams) of SMR's jojoba oil (golden) and 1.6 ounces (45 grams) of SMR's grapeseed oil to the batch. Be sure to stir all the ingredients together. You can add both of these liquid oils directly to the same vessel that's holding your warm shea butter.
Step 4) Next, carefully measure out and add the 7.2 ounces (204 grams) of SMR's fully refined emu oil to the rest of the ingredients and stir this portion thoroughly into the batch.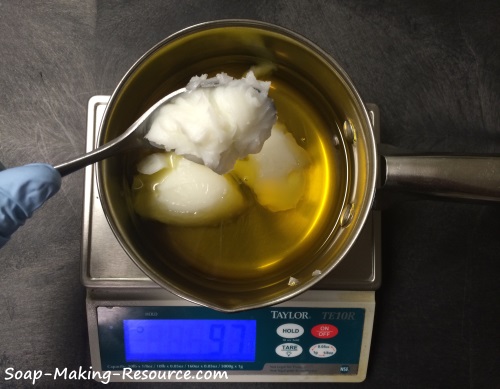 Note:
Be sure to add the
fully refined emu oil
to your tea tree oil ointment recipe batch after the rest of your ingredients have cooled down slightly. Remember, your ingredient mixture will be warm due to the melted
shea butter
! Too high of a temperature can negatively affect (at least for our application!) the texture of
emu oil
. We want to avoid this texture change if at all possible! As you know, our tea tree oil ointment recipe has a very specific consistency that we want to achieve in the finished product. Simply add the
emu oil
to the ingredient mixture when the rest of the oil combination is 100 degrees Fahrenheit or less. Your batch will most likely meet this temperature requirement immediately, without additional cooling, especially if you limited the heat when
gently
melting your
unrefined shea butter
portion. Just don't allow your oils mixture to cool down so much that it is no longer in a liquid state. This would make it difficult, of course, to easily and thoroughly integrate the
emu oil
!
Emu oil has a unique consistency that is so vital for forming the final consistency of our tea tree oil ointment.
Step 5) Now, measure out your .48 ounces (14 grams) of SMR's 100% Australian tea tree essential oil that's needed for this tea tree oil ointment recipe batch and incorporate it into the rest of your ingredients. Be sure to stir the tea tree essential oil thoroughly into the rest of your batch!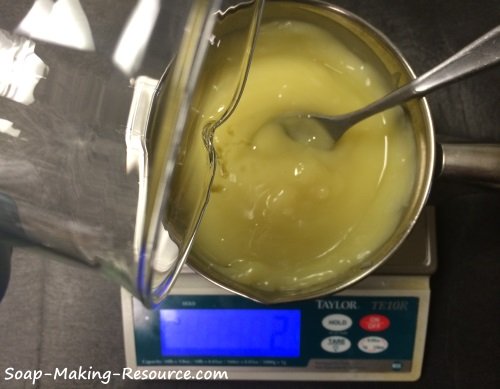 Step 6) Finally, thoroughly stir your entire formula, making sure that all components are completely integrated.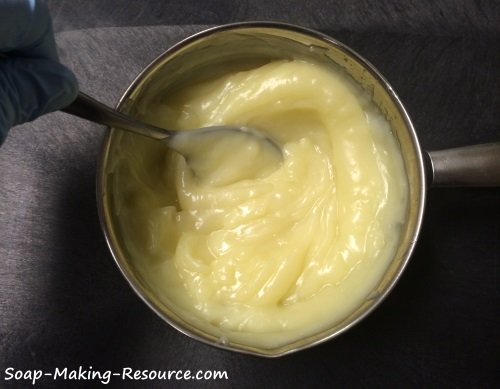 As you stir the ingredients and your batch continues to cool, you will notice that the mixture will start to thicken; revealing the final texture of your finished product. At room temperature, your tea tree oil ointment recipe will have a relatively thick, yet smooth consistency; similar to that of Vaseline. It will be thicker than a standard lotion, but not as thick as most "body butters". The final hue will be a pleasant all-natural off white color.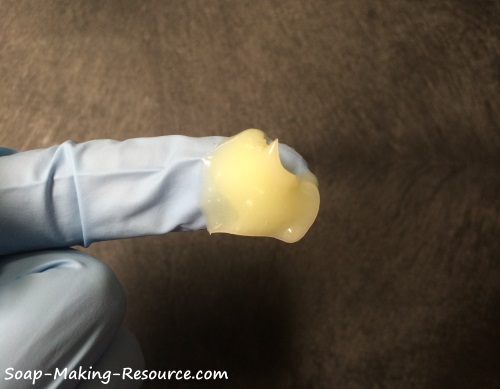 Remember, this type of high-end 100% oil based ointment is typically packaged in small 1 ounce to 2 ounce wide mouth jars or cosmetic tins. The packaging size you choose will depend on your target price point. You can easily sell an ointment like this for a retail price of $12 - $18 or more depending on your market! Remember, a little goes a long way with this type of product, so 1 ounce to 2 ounces of this tea tree oil ointment formula will last for many applications!
Packaging tip: Don't have an automatic filler? If manually filling open mouth containers with your tea tree oil ointment recipe, I typically use my finger (be sure to wear food grade and allergen safe gloves) to coat the interior of the container with the finished product. I then repeat this step, working my way from the outside of the container towards the inside; applying the ointment more and more liberally as the container begins to fill.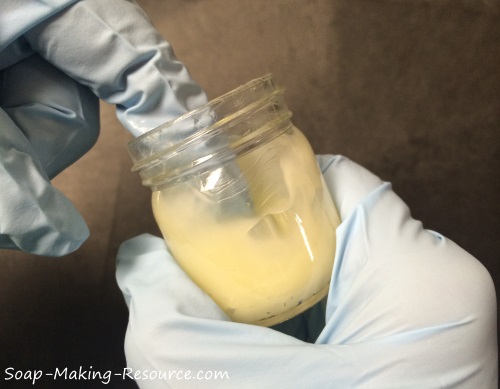 Once your container is completely filled, give it a gentle tap on your countertop to ensure that all the ointment has fully settled to the bottom of the container. This technique of filling your open mouth container from the "outside in" (as shown in the picture above) prevents air pockets from forming and allows you to fill your packaging of choice to capacity. Once you get the hang of this manual filling method, you can really become quite quick! It's much better than trying to "glop" your finished product into your containers. Keep in mind that the finished product will typically be too viscous to be able to simply pour it into your packaging!
Below is a picture of the finished product in our chosen 1 ounce packaging: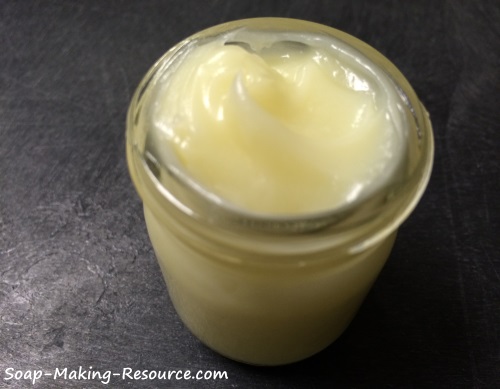 I hope you all enjoyed this tea tree oil ointment recipe demonstration. Thank you for viewing it! I think you'll like the finished product that our formula produces. It's very nice stuff!
Keep in mind that this is an ointment, not a lotion product. Its make-up and formula; therefore, is very different and the application process (and recommended usage rate) will be different too! Unlike a typical lotion, remember to only use a small amount of the tea tree oil ointment when applying this product. As I said before, a little goes a long way! You'll see what I'm talking about when you start using it. For instance, to moisturize your hands, you only need a small drop; probably about the size of half a pea!
This tea tree oil ointment, filled with nutrient rich and nourishing ingredients, is also a wonderful product to massage into your scalp; potentially helping to soothe dry scalp issues. Try using it in this way as a part of your after-shower care routine!
Soap Making Resource supplies all the ingredients used within this tutorial. We are specialists in quality cosmetic ingredients and soap manufacturing supplies. You can take a look at all of our products right here at soap-making-resource.com. We appreciate your business!
Don't forget; if you have any questions about this tutorial, or about any of our products, please feel free to contact us. We are more than happy to help! Also, be sure to explore soap-making-resource.com for more great formula demonstrations!
---
Return from the tea tree oil ointment recipe to the soap recipes hub page