Summer Citrus Essential Oil Blends
Summer-time is filled with so many wonderful sweet, tart and floral aromas. The unique scents of summer are what make this such a beautiful season that so many of us enjoy! Here at SMR, we are excited to add to the joy of summer and share with you our very own original summer scents. In today's tutorial, I am going to demonstrate 6 of SMR's summer citrus essential oil blends. Enjoy!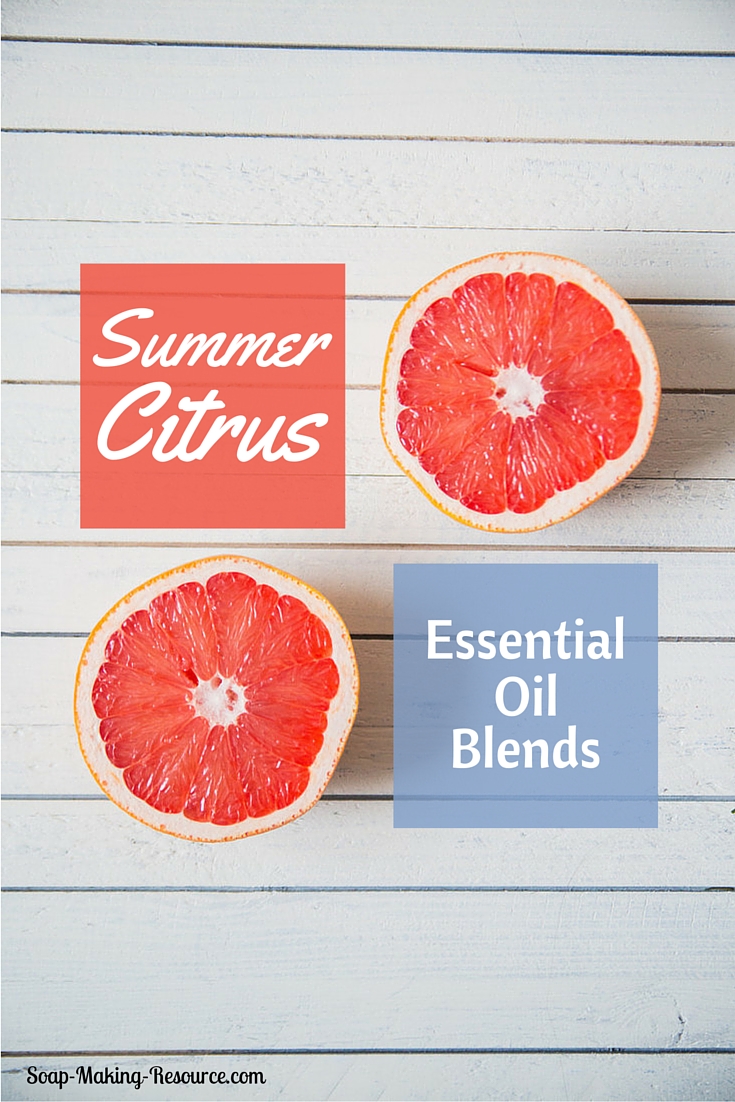 Each of these essential oil blend formulas are based around our large variety of all-natural citrus essential oils. Although the aroma of summer citrus makes up the core of these unique bouquets, each blend uniquely morphs into a different take on familiar citrus scents. These are truly distinctive summer aromas.
We'll infuse florals, warm things up with natural spice notes, and give you the occasional chill with menthols and mints. We also included a few unique essential oils that you may have never thought could add so much aromatic value to citrus scents. All components, of course, are meticulously blended into well-balanced aroma formulas.
We worked very hard on these summer citrus essential oil blends. We personally created, tested and reviewed many formulas and we are thrilled to share the best of the best with you today. We hope you enjoy them!
Free Soap Making e-Newsletter
Plus instantly receive one of my own personal soap recipe formulas using a combination of sweet almond oil, avocado oil, olive oil, coconut oil, palm oil, castor oil and shea butter scented with an intoxicating essential oil blend. This recipe is explained step by step in full detail. you're going to love it!
Instantly receive one of my own soap recipe formulas.
$5 Coupon off your first purchase of $30 or more!
Access to more exclusive subscriber coupons.
Future Soap making recipe tutorial announcements.
How to make lotions, bath bombs and more!
Interviews with successful soap makers.
Contests with awesome prizes.
Revealing soap making poll results.
New product announcements, demos and reviews.
Unbeatable Soap Making Resource Sales!

Sign Up Today!

*Your information is SAFE with us!
Summer Essential Oil Blend #1:
Our first summer essential oil blend incorporates the bright citrus notes of tangerine 5x and bergamot essential oil with a cooling backdrop of eucalyptus (globulus) essential oil. A lovely sweet and chilly treat!
Summer Essential Oil Blend #2:
This summer essential oil blend (which we have unofficially named "summer forest") is sweet and tart with subtle woody spice notes. This lovely aroma may just remind you of walking through the woods on a cool June afternoon. Enjoy!
Summer Essential Oil Blend #3:
This summer essential oil blend has a unique citrusy sweet and floral aroma with SMR's bergamot mint essential oil seamlessly weaving itself into this summer bouquet. A true must try!
Summer Essential Oil Blend #4:
This summer essential oil blend has a sweet, musky scent brightened beautifully by SMR's premium lemon essential oil. This is probably the most masculine of our summer citrus scents!
Summer Essential Oil Blend #5:
This summer essential oil blend combines sweet and tart citrus aromas with strong mint overtones. It's cooling and refreshing just for summer!
Summer Essential Oil Blend #6:
This summer essential oil blend incorporates SMR's orange 5x essential oil with the unique musky undertones of SMR's premium patchouli essential oil and sage (dalmation) essential oil. This unique essential oil blend is then lightly infused with sweet floral notes using SMR's ylang ylang III essential oil and spiced with SMR's black pepper essential oil. The final product is a beautiful "neutral" aroma that both men and woman can appreciate!
Thank you for taking a look at our summer citrus essential oil blends tutorial. We hope you enjoyed it! It is always our goal to demonstrate the many uses of SMR's premium ingredients and hopefully inspire your creativity.
Remember, all the ingredients used within this Soap Making Resource demonstration can be purchased right here at soap-making-resource.com. If you have any questions about our tutorials or about our products, please feel free to contact us. We are excited to help you!
---
Return from summer citrus essential oil blends to the soap recipes hub page.