Miter Box Wooden Soap Mold
Do you want a soap mold that helps you cut a perfect bar every single time? My "built in miter box" wooden soap mold will do just that! Molds are now available to purchase on this page.
Each mold has multiple slots spaced exactly 1 inch apart integrated into it for easy guided cutting. This is a great feature to ensure an evenly cut and professional looking finished product. Each miter box soap mold offered on my site also comes with a free soap cutter that works nicely with the mold!
The miter box soap mold also has detachable ends for easy removal of your soap and is handmade out of premium pine.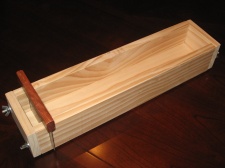 Here's how it works:
Step 1: Line the miter box soap mold with freezer paper just like you would with any other wooden soap mold. Once your mold is lined, you won't have to worry about soap seeping through the cutting slots. Click here for a tutorial on how to line a soap mold.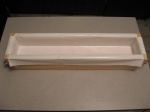 Step 2: Make your soap batch as usual. Be sure to use the proper amount of ingredients for the size of your mold.
Step 3: Pour your finished soap into the mold and insulate it with towels. Leave the soap undisturbed for about 24 - 36 hours.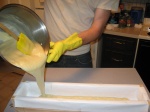 Step 4: Assuming your soap is solid, gently remove the loaf from the mold and peel off the freezer paper. Removing your soap will be simple as the ends of my mold are detachable.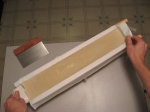 Step 5: Insert the soap loaf back into the mold.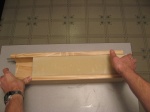 Step 6: Take out the soap cutter that came with your wooden soap mold and begin slicing the soap into bars using the cutting slots that are already built in.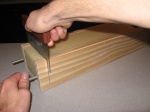 Step 7: Your soap loaf should now be cut into 1 inch thick uniform bars.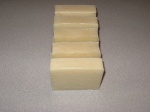 Wasn't that easy? The miter box soap mold will make your life a whole lot easier as there will be no more hand measuring and no more uneven cuts. What does this mean for you? Saved time and money as waste is reduced! Please contact me if you have any questions about these special wooden soap molds.
Free Soap Making e-Newsletter
Plus instantly receive one of my own personal soap recipe formulas using a combination of sweet almond oil, avocado oil, olive oil, coconut oil, palm oil, castor oil and shea butter scented with an intoxicating essential oil blend. This recipe is explained step by step in full detail. you're going to love it!
Instantly receive one of my own soap recipe formulas.
$5 Coupon off your first purchase of $30 or more!
Access to more exclusive subscriber coupons.
Future Soap making recipe tutorial announcements.
How to make lotions, bath bombs and more!
Interviews with successful soap makers.
Contests with awesome prizes.
Revealing soap making poll results.
New product announcements, demos and reviews.
Unbeatable Soap Making Resource Sales!

Sign Up Today!

*Your information is SAFE with us!
---
Return from miter box wooden soap mold to the wooden soap molds main page.