Coffee Soap Recipe
Thank you for taking a look at our coffee soap recipe tutorial. This detailed lesson will teach you exactly how to make coffee soap at home. For this batch, we will actually be incorporating freshly brewed coffee into our soap. The exact coffee soap recipe process will be explained below.
This is an artisan soap making batch as we will be using a few different techniques to design our bar's look and feel. The results are exceedingly attractive as you can see in the below picture of our finished product! Pretty; right?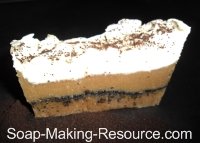 Some of the design techniques that you can see in our soap above may easily be transferred when creating the appearance of other batches in your soap making repertoire. So I think that this tutorial can have a lot of residual value for you as a soap maker!
Within this lesson, I will also describe a very lovely coffee essential oil blend that you're going to be thrilled with! Of course, if you prefer that your soap has the aroma of straight black coffee, you can always use our premium coffee essential oil all alone without any additions. Either way; this soap will enable you to have that perfect morning shower!
By the way... this recipe will make 5 pounds of soap and will work perfectly with our 5 pound acrylic soap mold or 5 pound wooden soap mold.
So let's get started with our coffee soap recipe!
Get the Kit! (Out of Stock)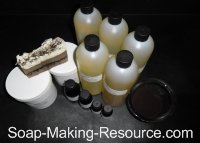 With this coffee soap recipe kit, you will be able to make a fine batch of all natural coffee soap right at home; perfect for that early morning shower. With this bar waiting for you each morning, you can be sure that it will be easier than ever to get up for the day! Each kit will include 32 ounces of olive oil, 13.5 ounces of coconut oil, 13.5 ounces of palm RBD, 16 ounces of rice bran oil, 16 ounces of almond oil, 16 ounces of castor oil, a 2.5 ounce packet of Lancaster county coffee, 2 ounces of coffee essential oil (Brazil), 1 ounce of cinnamon essential oil, 1/2 of ounce nutmeg, and 1/2 ounce of clove bud essential oil.
This is more than enough ingredients to make the below coffee soap recipe. Keep in mind that you will have to provide the distilled water and lye to complete your batch. Distilled water can be picked up at your local grocery store and lye can be picked up at many hardware stores. We will also supply with your kit our source for lye, so if you can't find this ingredient locally, you will have access to a reputable company that you can order lye from. This information alone is a great value!
You may also want to pick up one of Soap Making Resource's 5 pound acrylic soap molds or 5 pound wooden soap molds. Either one will work perfectly for this batch!
Finally, full written instructions will be included with your kit.
Coffee Soap Recipe Kit: $76.89 Out of Stock

* All ingredients within this recipe can also be purchased in bulk at soap-making-resource.com
Here is the recipe that we will be using:
*This recipe has a 5% super-fat.
*All measurements are weight measurements, not liquid measurements.
Below is a full explanation for our coffee soap recipe:
Step 1) For our very first step, even before we create our lye solution, we are going to brew the coffee that we will be using for this batch. In my soap, I am going to use Lancaster County Coffee's Starbarn Blend.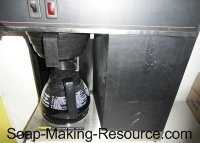 Why are we brewing our coffee first? Well... the coffee must cool down substantially before you can use it for soap making. Adding hot coffee to your batch can cause the soap to overheat and the extra heat produced through saponification may actually burn your coffee within the soap producing a rather unpleasant smell. In fact, for best results, the coffee should really be chilled before adding it to your soap pot; so if possible, you should make your coffee the night before and put it in the refrigerator overnight so it is ready for use in your coffee soap recipe the very next day!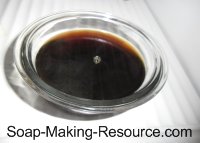 For soap making, we are going to make our coffee extra strong. In fact, I will be making my brew about 5 times stronger than normal! We need our coffee to be extra strong so that both the color and fragrance come through in our soap as much as possible.
Finally, when brewing coffee for soap making, be sure to use distilled water as this water will indeed be going into our soap batch.
Step 2) Now that our coffee is brewed and set in the refrigerator to cool, we are going to create our lye solution. Carefully measure out your 204 grams of dry lye. Be sure to do this in a chemical and heat safe container.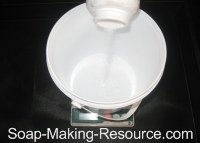 Now measure out 14 ounces of distilled water. These should be weight ounces not liquid ounces. You should use distilled water for all homemade soap recipes that you create including this coffee soap recipe.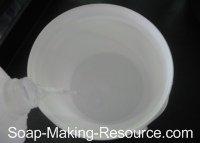 Next, pour your measured out lye portion into your water. Do this slowly and stir your solution as you combine the two components.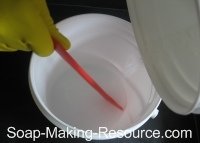 It is very important that you create your lye solution in a well ventilated area and away from children and pets. In additional to strong fumes, your lye solution will also heat up substantially as the water and lye combine; So be careful!
Now that your lye solution is successfully made, set a candy thermometer into the solution and set it safely off to the side. Your solution will need to cool down substantially and it can do so as you are preparing your other ingredients in the coffee soap recipe.
Step 3) Next, we are going to prepare our soap making oils for this batch. Weigh out all the oils as described in the coffee soap recipe above. Be sure to measure as accurately as possible!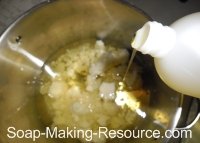 Next, melt down all your oils. You can do this on your cooktop, but be sure to use a low setting so that you don't burn the oils.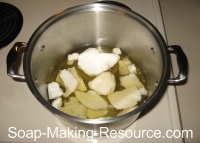 Step 4) While our oils are melting, we are going to prepare the additives for our batch. This coffee soap recipe calls for coffee (brazil) essential oil, cinnamon leaf essential oil, nutmeg essential oil, clove bud essential oil and of course our brewed coffee that should now be thoroughly chilled. Keep in mind that if you prefer, you can always use just straight coffee (brazil) essential oil and omit the blend. It's up to you! I personally love the coffee/cinnamon/nutmeg/clove combination and I think that you will too. It's a great blend!
If you decide to omit the essential oils all together, please be aware that the aroma from our brewed coffee is not quite strong enough to come through in soap for any extended period of time.
Here's a picture of all the additives we will be adding to this batch, which includes brewed coffee, coffee grounds and our coffee essential oil blend: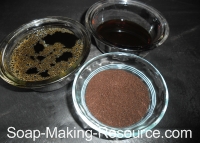 First, we are going to prepare our essential oil blend. When portioning out our essential oils, I like to measure in grams as this small unit of measurement is much more accurate than ounces. So, weigh out 38 grams of coffee (brazil) essential oil, 19 grams of cinnamon leaf essential oil, 9 grams of nutmeg essential oil and 9 grams of clove bud essential oil.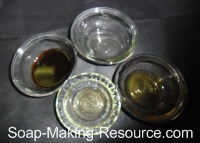 As you can see in the picture above, I prefer to measure out all my essential oils for a particular blend in separate dishes. I do that so that if I make a mistake in measuring; I can easily remove some of the specific essential oil with a pipette. Obviously, this would not be possible if I were measuring my essential oils into other essential oils. Once all of your needed essential oils are weighed out, combine them all into one container so that they are ready to be added to your batch when the time comes.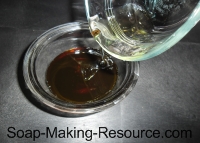 Next, we are going to measure out our needed coffee. Our coffee soap recipe calls for 6 ounces of brewed coffee. This ingredient should be chilled! Remember, we are using weight ounces here, not liquid ounces!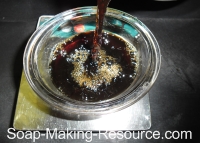 Free Soap Making e-Newsletter
Plus instantly receive one of my own personal soap recipe formulas using a combination of sweet almond oil, avocado oil, olive oil, coconut oil, palm oil, castor oil and shea butter scented with an intoxicating essential oil blend. This recipe is explained step by step in full detail. you're going to love it!
Instantly receive one of my own soap recipe formulas.
$5 Coupon off your first purchase of $30 or more!
Access to more exclusive subscriber coupons.
Future Soap making recipe tutorial announcements.
How to make lotions, bath bombs and more!
Interviews with successful soap makers.
Contests with awesome prizes.
Revealing soap making poll results.
New product announcements, demos and reviews.
Unbeatable Soap Making Resource Sales!

Sign Up Today!

*Your information is SAFE with us!
Step 5) At this stage, All your additives should be prepared and ready to go when they are needed in your batch. While you were preparing your additives, your soap making oils have most likely fully melted. Remove the soap pot from your cooktop and place a thermometer into the oils.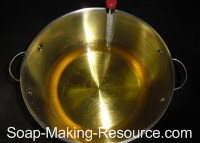 Now we need to lower the temperature of our oils. For this coffee soap recipe, we want both the lye solution and oils mixture to have a temperature of about 90 - 100 degrees Fahrenheit. Keep in mind that this is my preferred soap making temperature. This does not have to be exact!
You can lower the temperature of your oils and lye solution by placing the mixtures in a sink filled with ice water. Most likely, however, by now your lye solution has cooled substantially on its own as it has been quite a while since its creation.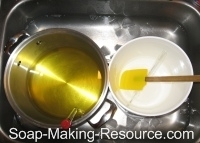 Step 6) At this point, our lye solution and oils mixture have cooled to around 90 - 100 degrees Fahrenheit and all of our additives have been prepared to be included into the coffee soap recipe. We are finally ready to make soap!
This coffee soap recipe is an artisan bar and will require some design techniques, so be sure to follow the below steps very carefully. The order in which you do things for this recipe is integral. You may even want to read this section a few times first before moving forward.
Slowly and carefully pour your lye solution into your soap making oils. Stir with a silicone spatula as you combine the two components.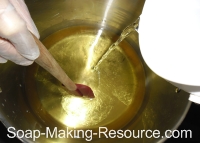 Keep stirring for just a few minutes manually until you achieve an even color and texture. Don't use your stick blender just yet!
Now that your oils and lye have been initially combined, you can start mixing your coffee soap recipe batch using your stick blender.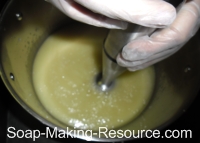 Keep mixing until you reach a very light trace! How do you test for trace? Simply dribble a small portion of soap from your batch onto the surface of the rest of your soap batter and watch carefully to see what happens. If the soap stays on the surface of your batch for a few seconds before sinking back in, then you have reached trace. Don't mix for too long as you don't want your soap to get overly thick. We need plenty of time to include our additives and definitely don't want our batch solidifying in the soap pot. The consistency of your soap at this point should be about that of catsup.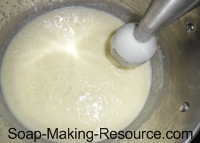 Now, we are going to remove a small portion of your soap that will be used in this batch's design. In a separate container, one that is also heat and chemical safe, remove one fourth of your batch. This is a 5 pound soap batch, so you will need to remove about 1.25 pounds of soap. This portion of soap will be added to the top of your log to give your finished product a white accent.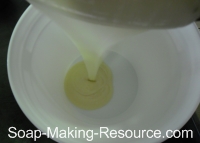 Next, in your large soap portion, pour in the 6 ounces of chilled brewed coffee and mix in thoroughly using your stick blender.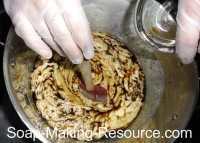 Now add your essential oils. Add them only to your large portion of soap as this blend of essential oils may cause your finished product to darken slightly. This is fine for the large soap portion as we want the final hue to be a light coffee brown, but we want the small portion to remain a nice creamy white. Mix in the essential oils thoroughly using your stick blender until your soap is an even texture and color.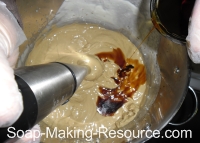 Step 7) Finally, we are ready to pour our soap. Attention to detail is essential for these following steps as we will be pouring the batch in layers.
First, we are going to split our large portion of soap in half. Our large soap portion should weigh approximately 3.75 pounds, so in a separate heat and chemical safe container, separate 1.875 pounds. This doesn't need to be exact! Just separate about half of the large portion.
Now, we are going to pour one of these two dark portions into our soap mold. As you can see in the picture below, I am using the Soap Making Resource 5 pound acrylic log mold.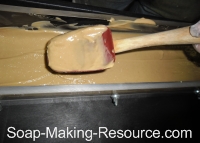 Next, sprinkle a layer of coffee grounds onto the surface of your poured soap portion. This will give your finished bar an attractive accent line. Keep in mind that you don't want to go overboard here! If your coffee ground layer is too thick, you risk the chance that your layers of soap won't adhere to each other. Pour just enough so that all the soap is covered with a thin layer of coffee grounds but make sure you don't pile it on!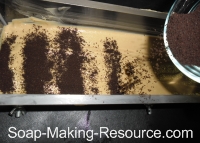 Now pour the second dark soap portion on top. Do this slowly and carefully as not to damage the layer of coffee grounds.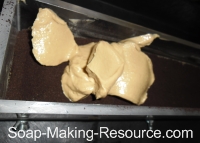 Next, pour the white portion of soap on top of the batch for your final layer. This will give your finished product a beautiful white creamy top. It will almost look like the frothy top of a freshly poured cappuccino!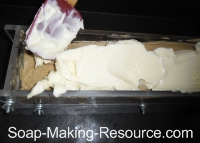 Finally, you can sprinkle even more coffee grounds on top of your soap. I personally like to sprinkle on just a light amount of grounds rather than a full layer. How much you put on is solely up to you! This really tops off your bar with a pretty decorative flair!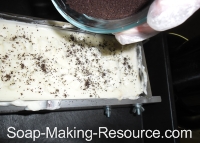 Step 8) Set your soap safely off to the side and allow it to cure for 12 - 24 hours. I did not insulate this batch with towels as I prefer not to gel this coffee soap recipe. By not gelling, the soap has a creamier appearance.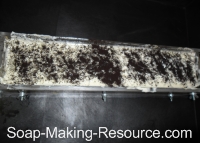 Step 9) Now that your soap has fully solidified, you can remove it from your mold. This is a piece of cake when using one of our acrylic log molds!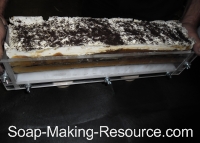 Step 10) Next, cut your soap log into bars. As you can see in the picture below, I am using Soap Making Resource's adjustable guided soap cutter.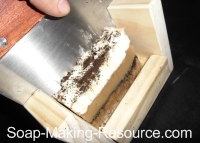 Step 11) Now, place your bars on a rack to cure. Isn't it beautiful!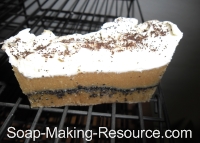 For best results, allow your soap to cure for 6 - 8 weeks as this will allow an optimal amount of water to evaporate from your product, leaving behind a high lathering, long lasting and gentle bar soap.
Step 12) Finally, lather up and enjoy your all natural coffee soap!
I hope that you all had a great time reading my coffee soap recipe tutorial! It was a blast to make for you all!
Don't forget to pick up the kit if you want to make this batch at home. Or, of course, you can always get all the ingredients you need in bulk for this recipe right here at soap-making-resource.com!
---
Return from coffee soap recipe to the soap recipes hub page.